Juniors
Details

Category: Juniors Program
Junior Gearing and Training Advice
TRAINING - How much training on a weekly basis?
Here are the guidelines for junior training and racing as well as the maximum allowable race distances – as set by Cycling Australia as set by the 2015 Cycling Australia Junior Policy.
UNDER 9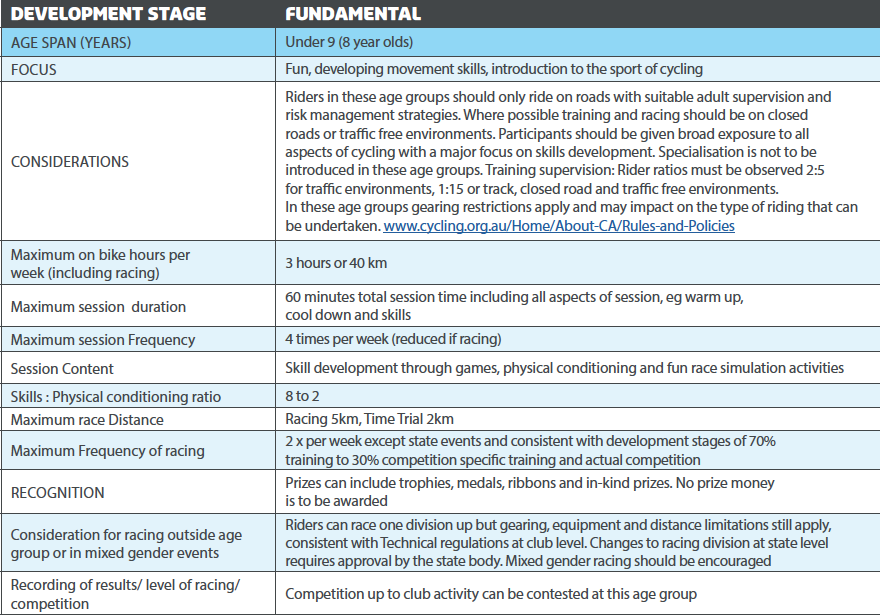 UNDER 11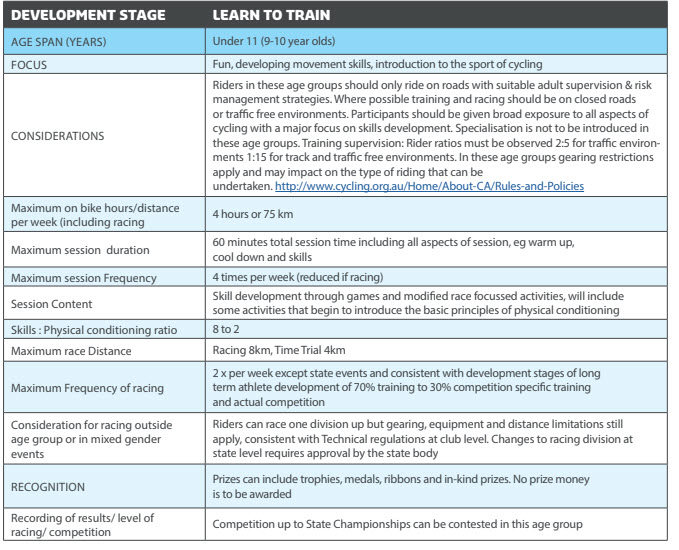 UNDER 13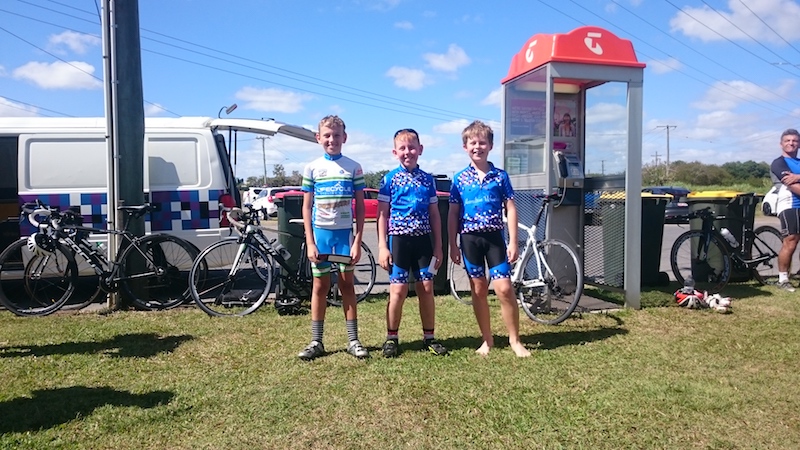 UNDER 15





UNDER 17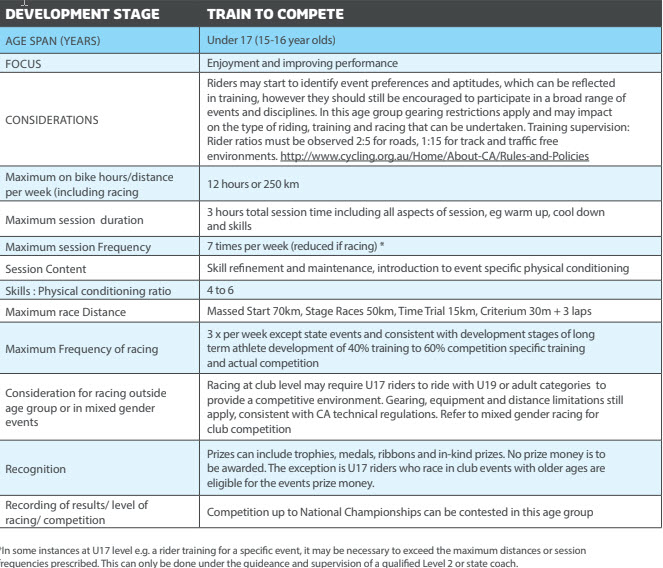 These are extracts from the 2015 Cycling Australia Junior Policy

Rules / Regulations – from Cycling Queensland website
Junior Equipment Regulations
For all junior categories up to & including JM17 – JW17 the following equipment restrictions will apply for road & track competitions.
1. For all events a standard triangular frame may only be used. Such frames shall consist of standard tubing of dimensions no more than 80mm maximum and no less than 25mm minimum. (refer Annexure 6 UCI Bicycle Regulation).
2. For all events, wheels must have at least 12 spokes with the sole exception that construction of the rim shall exclude the use of composite fibres (Carbon, Kevlar, Aramid and similar fibres).
3. Only high pressure detachable tyres and tubes shall be used. A detachable type tube means the tube is detachable from the tyre casing. Such high pressure tyres shall be beaded.
Junior Handlebars
Handlebars shall be of the standard "Classic" style. Bolt on handlebar extensions shall be allowed for under 15 and under 17 riders for the individual pursuit, team pursuit and road and track time trials only. No modification to the extension shall be allowed.
Junior Gear Limitations
Gearing restrictions apply to all Junior category-specific races (in their highest useable gear). Restricted gearing rules exist internationally and are enforced to guard against damage to young bones and muscles that could result through the use of big gears at an early age. Gear restrictions are based on a "roll out distance".

Roll Out Distance is the distance the bike travels in a straight line through one full revolution of the pedal cranks in the biggest gear on the bike.

Rollout Distances for each Age Division are:
U9/11/13 = 5.500 metres

U15 = 6.000 metres

U17 = 7.000 metres

U19 = 7.930 metres*
*when competing in junior only event, for other events U19 may use any gearing

Parent/Mechanics are to ensure all juniors are under the gearing limit for their age at ALL events, not not junior races. If you need help please ask one of club officials before race day and they can help you out.

Please see this Notice from Cycling Queensland issued March 2015 regarding gearing restrictions and 'locking out' of gears:



A quick summary is that on top of the Cycling Australia techical regulations, Cycling Queensland have added the following constaint:


'Blocking off' of gears will not be permitted at National, State and Qld Open Events for U15 & U17. (Cycling Australia regulations forbid 'blocking off' at National Championship events, Cycling Queensland have extended this). 'Blocking off' is still permitted in U9/U11/U13 age categories.

What this means is that all U15 and older juniors should purchase a 14-25 or 15-25 cassette and/or a different chainring to obtain the correct rollout. 14-25 with a 50 compact crank is a good combination for 7m rollout.

Click here for all CQ Rules and Regulations
If you have any suggestions or questions please contact one of the clubs junior officials via the Contacts Page

Gearing Chart

The following chart gives a number of gear combinations that suit the criteria. The calculations are based on a standard 700C rim with racing type slick HP tyre. However, it must be noted that this is a guide only and the actual distance covered will be dependent upon brand and type of tyre fitted, therefore the rider must ensure compliance by measuring their own "roll-out".

J11/13 - 5.500 metres
39 x 16 = 5.13 m 40 x 16 = 5.26 m 41 x 16 = 5.39 m
42 x 17 = 5.19 m 43 x 17 = 5.32 m 44 x 17 = 5.44 m
45 x 18 = 5.26 m 46 x 18 = 5.37 m 47 x 18 = 5.49 m
48 x 19 = 5.31 m 49 x 19 = 5.42 m 50 x 20 = 5.26 m

J15 - 6.000 metres
39 x 14 = 5.86 m 40 x 15 = 5.61 m 41 x 15 = 5.75 m
42 x 15 = 5.89 m 43 x 16 = 5.65 m 44 x 16 = 5.78 m
45 x 16 = 5.91 m 46 x 17 = 5.69 m 47 x 17 = 5.81 m
48 x 17 = 5.94 m 49 x 18 = 5.72 m 50 x 18 = 5.84 m
51 x 18 = 5.96 m

J17 - 7.0000 metres
39 x 12 = 6.82 m 40 x 12 = 7.00 m 41 x 13 = 6.62 m
42 x 13 = 6.78 m 43 x 13 = 6.96 m 44 x 14 = 6.60 m
45 x 14 = 6.75 m 46 x 14 = 6.90 m 47 x 15 = 6.58 m
48 x 15 = 6.72 m 49 x 15 = 6.86 m 50 x 15 = 7.00 m
51 x 16 = 6.69 m 52 x 16 = 6.82 m 53 x 16 = 6.95 m

J19 - 7.930 metres
HP tyre
39 x 11 = 7.46 m 40 x 11 = 7.64 m 41 x 11 = 7.83 m
44 x 12 = 7.71 m 45 x 12 = 7.89 m 46 x 13 = 7.44 m
47 x 13 = 7.60 m 48 x 13 = 7.77 m 49 x 13 = 7.93 m
50 x 14 = 7.51 m 51 x 14 = 7.66 m 52 x 14 = 7.81 m
53 x 15 = 7.43 m

Single
39 x 11 = 7.57 m 40 x 11 = 7.76 m 44 x 12 = 7.83 m
46 x 13 = 7.55 m 47 x 13 = 7.72 m 48 x 13 = 7.88 m
50 x 14 = 7.63 m 51 x 14 = 7.78 m 52 x 14 = 7.93 m
53 x 15 = 7.54 m