Cyclocross
Cross is Back at Nundah!
Proudly presented by Hamilton Wheelers Cycling Club in conjunction with Queensland Cyclocross
Sunday 18th April 2021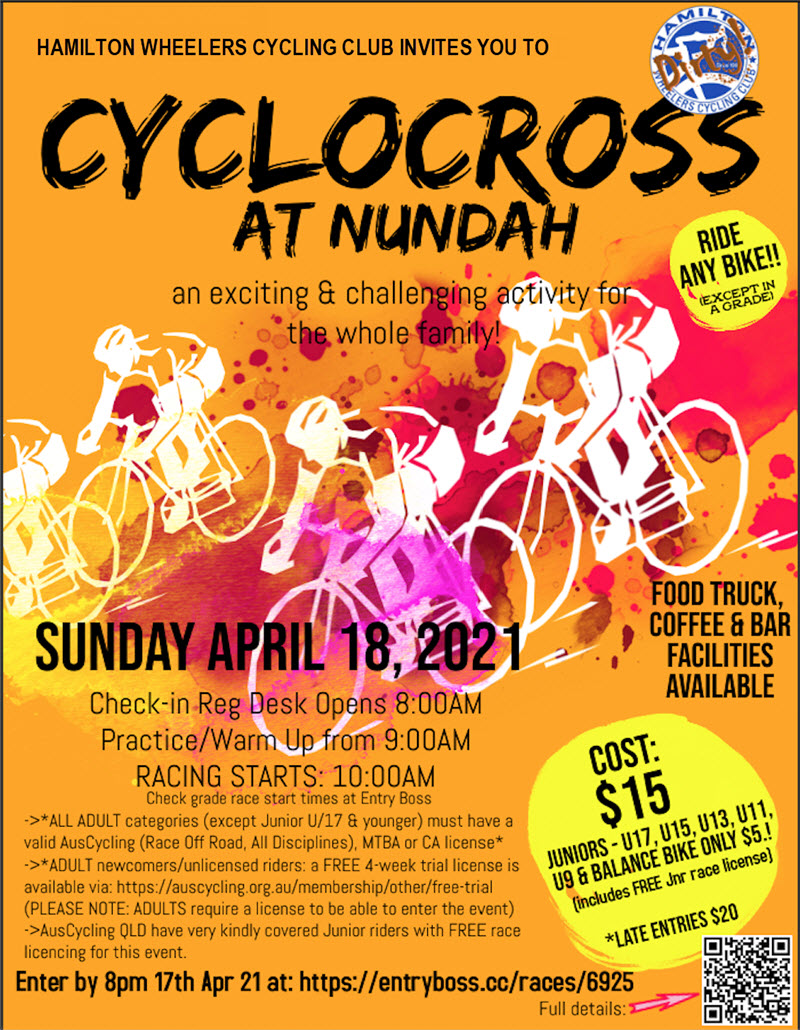 COURSE MAPS ADDED AT BOTTOM!
What is Cyclocross? Here's a few video to give you an idea.
It's great to see cyclocross growing with a number of new clubs hosting racing this season. The Nundah CX is being hosted by Hamilton Wheelers.
The course will be fun and challenging, using parts of the crit circuit and includes some fast-flowy singletrack sections of buch next to the cemetery.
We will be including a "Little Crossers" event for the kids (16 inch, balance bikes etc)
Note that Womens B,C and Open (First-timers) grades will be run as completely separate races so there will be no argy bargy push and shove (unless you want it!)
Cyclocross is an exciting, challenging, whole of family activity.
There are other CX races coming to SEQ in the coming months so this could be the start of something new and exciting for you and your whole family to enjoy.
With the recent rains, it's going to be wet, so get ready to get dirty! We guarantee this will be FUN... Hugely FUN!!! And you've never done this before, YOU REALLY DO HAVE TO GIVE THIS A TRY!!

Full details and online entry at:

Online Entry via EntryBoss
All entries must be done online. Here's how:
Create an EntryBoss account using Name, email and phone number. If you are entering for someone else such as a family member then use your details.
Create an profile for each rider. If you are entering for someone else, use their details. If the rider doesn't already have a racing licence just enter 'N/A' for MembershipType and 'Club' and we'll organise coverage for you.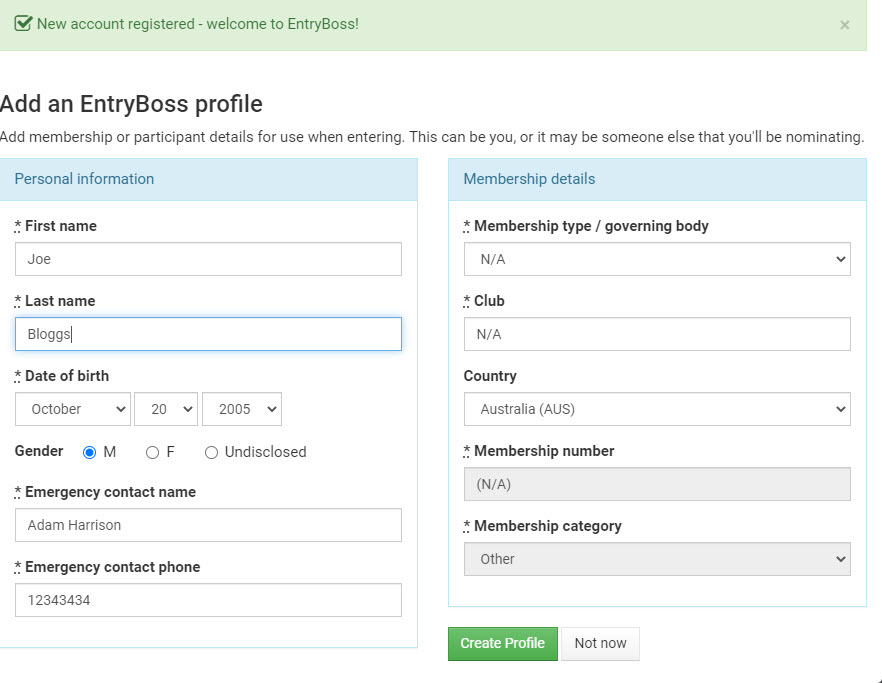 Schedule
| Event | Start Time | End Time |
| --- | --- | --- |
| Course Setup | 7:00am | 9:00am |
| Registration Open | 8:00am | |
| Practice/Warm up Session one | 9:00am | 10:00am |
| Mens C, Mens Open (First timers), U15 Men (30min race) | 10:00am | 10:45am |
| U13, U11, U9, U7, Balance Bike (10-15min race) | 10:45am | 11:15am |
| Womens B, C, Womens Open (First timers), U17/U15 Womens (40min race) | 11:15am | 12:05pm |
| Presentations for above Grades | 12:05pm | 12:25am |
| Practice/Warm Up Session Two | 12:05pm | 12:30am |
| Mens B, U17 Men (40min race) | 12:30pm | 1:30am |
| Mens A, Womens A (50min race) | 1:30pm | 2:30am |
| Presentations Session Two | 2:30pm | 3:00am |
| Packup | 2:30pm | 3:30am |
---
COVID-19 Notice
We are taking COVID-19 restrictions seriously. By entering this event, you agree to the following: - All spectators/helpers/parents please check in at registration (everyone not registered to race) - You will not attend if you have flu-like symptoms within 14 days of the event - You will social distance and observe COVID hygiene practices - You will follow all safety guidelines and directions of the event promoter - It is strongly recommended that you download the COVIDSafe App
So what do I do on Race Day?
Arrive early- (allowing plenty of time before the race (to affix your bib, prepare your bike, warm up etc) is crucial to having a fun and relaxed day)

There are TWO Practice/Warm Up sessions- (9:00AM-10:00AM or 12:05PM-12:30PM) - Please ensure you are there to attend at least one of these sessions prior to your race

Proceed to club house- and present at registration desk (ensure you have your license printed or available on phone)

Get your number bib- and timing chip (as appropriate)

Affix number bib- to your jersey with pins provided (on back, right hand hip, just above waist)

Attach timing chip- to bike using cable ties as instructed

Practice- ride the track and warm up (during allotted sessions)

Clear the track- when advised and/or when racing starts

Encourage- and cheer on other grades (before and after your race)

Help out- if you see someone needing assistance or you see something needing to be done

Keep your ears open- for announcements

Be on time-, ready to race when your race grade starts

Relax… Have fun… Ride Hard… -This isn't the World Cup, but challenge yourself whilst making sure you have fun

Stay around after your race- grab something to eat, have a cool drink (or two) and cheer others on! Help tidy up if you can

Go home- brag about your conquests to everyone you know (and encourage them to come next time)

Sign up- for another race (there are other CX races coming to SEQ in the coming months so this could be the start of something new and exciting for you and your whole family to enjoy!)
Entry Grades
Cyclocross is an exciting, challenging, whole of family activity. We don't expect you to be at World Cup level, but pushing yourself is all part of the fun - so please enter into a grade appropriate to your level of fitness and/or experience… NO SANDBAGGING… ;-) The club reserves the right to move people who have entered in an inappropriate grade. We have 4 separate grades for Men & Women - A,B,C and 'Open' for first time races as well as grades for kids by age. If you are unsure of which grade to enter, here's a very loose guideline:
If you race A grade on the road/MTB/CX, enter A Grade
If you race B grade on the road/MTB/CX, enter B Grade
If you race C grade or below on the road/MTB/C, enter C Grade
First-timers - If it's your first ever bike race and you have absolutely no idea what to expect, then enter the Open (Male or Female) Grade, have some fun, hang at the back to watch and learn the style of racing. This grade will start in a wave shortly after C.
If you are U15 or U17 and just so happen to be super talented or speedy, perhaps moving up to B or C grade is a good idea?
Juniors enter your appropriate age category and have fun
Entry Fee
All entries should be made online. Entry fee is:
$15 Adult and U17 riders
$5 for Juniors aged U15 and younger (NOTE: free temporary licences are provided for all juniors U17 and younger without an AusCycling race licence)
Licences
A valid AusCycling (Race Off Road, All Disciplines), MTBA or CA license (that have not expired yet) is required * for all riders except Juniors U17 and younger. AusCycling QLD have kindly covered Junior riders with free race licencing for this event.
For adult newcomers or unlicensed riders - A FREE 4-week trial license is available via AusCycling's website: https://auscycling.org.au/membership/other/free-trial (PLEASE NOTE: you will need this to be able to enter the event online via Entry Boss)
Bikes
A grade must have a CX bike (rigid forks, drop bars, max 35mm CX tyre width, no shocks)
ALL OTHER GRADES: any bike, any tyre width is allowed (although knobby tyres are ABSOLUTELY recommended)
Junior categories - any (safe) bike (20 inch, 16 inch, balance bikes etc). Ensure you have plugs in the ends of handlebars.
Race Format
Men's A & Women's A will be on the course at the same time, they will however start in separate waves
Adult Men, Adult Women and U15/17 Men and Women will have separate races - starting in separate waves for each grade (unless specified otherwise)
C Grade and Open (First Timers Male or Female) Grade will ride a slightly shortened course (including creek crossings and sections of bush trail/singletrack)
Junior Races will be combined in boy & girl races as per their respective age category - 'Little Crossers' (Balance Bike, U7, U9) will ride a shortened course (grass area only) - U13 & U15 will ride a shortened course (including creek crossings and sections of bush trail/singletrack) - U17 will ride the whole course
Race Procedures
Rego Close: - Rego closes 15 minutes prior to race start.
Scratching: - Scratching is self-serve with automated refund via EntryBoss, if within cut-off time.
*No License - No Race * - all riders except U17 and younger juniors need a current AusCycling licence
New to Racing: - Try a COMPLETELY FREE AusCycling 4 week trial membership https://www.auscycling.org.au/membership/other/free-trial
On-the-day Entries: - $20 (must have proof of licence)
Announcements: - Please check the Hamilton Wheelers website or Hamilton Wheelers Facebook for any announcements regarding racing.
Wet-weather Policy - A decision to cancel due to poor weather is made...wait this is Cyclocross! :)