Qld Masters Track Champs 2015 Report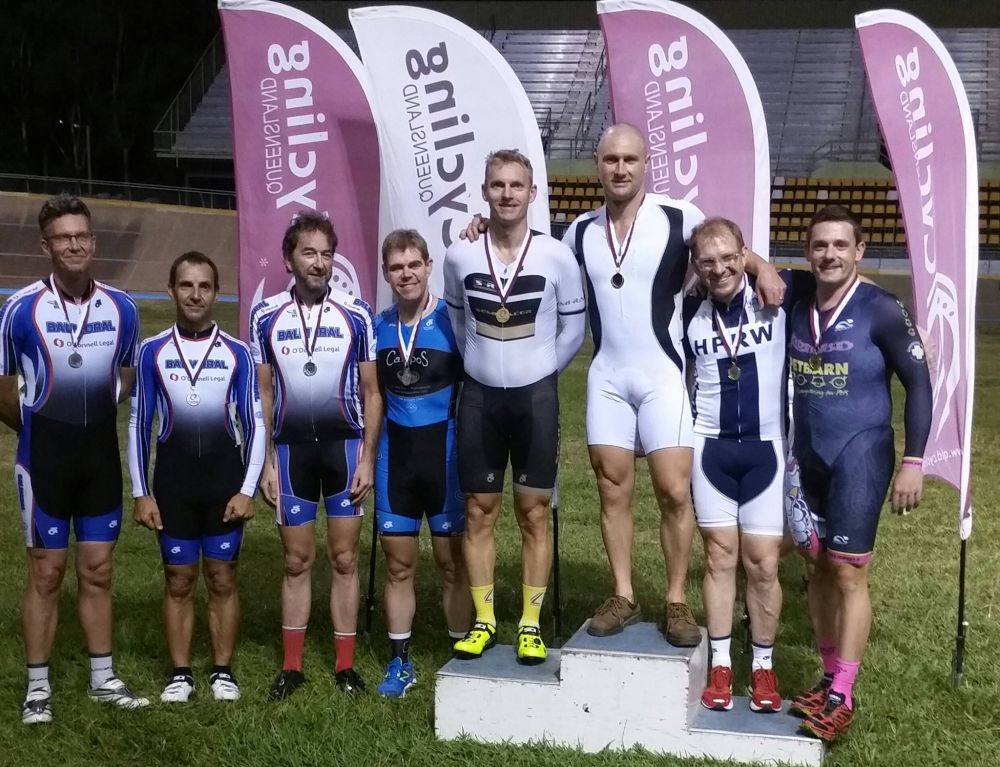 Andy Patten, Patrick Weinrauch, Tim Hooker, Neil Hamey
Report courtesy of Rene Lubbers:
An often overlooked segment of cycling is track racing. Our HPRW club was well represented at the recent Queensland Masters Track Championships held at Chandler February 13th & 14th.
The action was fast and furious with our members coming away with a collection of medals and even state records. Events contested included individual and team events throughout all age categories. Congratulations must go to the following members for their efforts and also a special thanks to John Madigan for his role as Commissaire for the two days and to Dave Roest for offering to be the club volunteer at the last minute.
Please arrive Early!
The first weekend race of 2015 at Nundah was extremely popular and both A and B grade reached the maximum field size of 60 riders and regrettably some riders missed out. This limit was created for safety and must be strictly enforced. The limit is only reached rarely (twice in the last 15 months)
but it always pays to be early to avoid missing out, as it is a
'first-come first-served' basis.
Also, as advertised each week,
sign-on closes 15 minutes before the start of each race
. This allows us to keep to our advertised schedule and for our volunteers to provide start lists to the commissaires, organise prize money etc.
If you miss out please don't ask to ride down a grade, as this is not fair to riders in this grade, and has many times negatively effected the outcome of the race, leading to complaints.
Thanks in advance for you understanding and cooperation.
Summer Roster 2014/15
Members - now is the time to nominate to volunteer in 2015. We only ask that you help out just once per season.

There is something for everyone - extroverts and nerds (registration), introverts (marshalling), adrenaline junkies (finish line duties), and the mildly OCD (sorting numbers and polishing safety pins)!

Thanks to everyone (well ok 2 people) who have already nominated for a spot. For everyone else we've done a random draw which is up on the website. Please let Adam Harrison know if you can make it either way (yes or no) ASAP so that we can start swapping people around which is easy to do.

A few tips that make it a lot easier to manage and prevents us scrambling around at the last minute trying to find vollies:
Confirm your availability either way ASAP

Try and find someone else to take your spot

Arrange a date swap with someone who wants to move

Advise you will be unable to complete your rostered duty due to other committments (work, school sport,travel etc) Totally OK!

Let us know we've made a booboo and you've already helped out during the year - we'll take you off the list (and thanks!)
2014/15 Summer Roster (click to view Roster)