hamiltonwheelers.com
News
Wednesday, 23 April 2014 10:34
HPRW Members to compete in Commonwealth Games and World Champs

The triathlon team for the 2014 Glasgow Commonwealth Games has just been announced. HPRW now has two new Commonwealth Games athletes competing – Dan Wilson and Emma Jackson in the sport of triathlon. Emma also competed in the London Olympics in 2012 and came 10th in the Women's Triathlon.
Well done Dan and Emma - we'll all be cheering you on in Glasgow!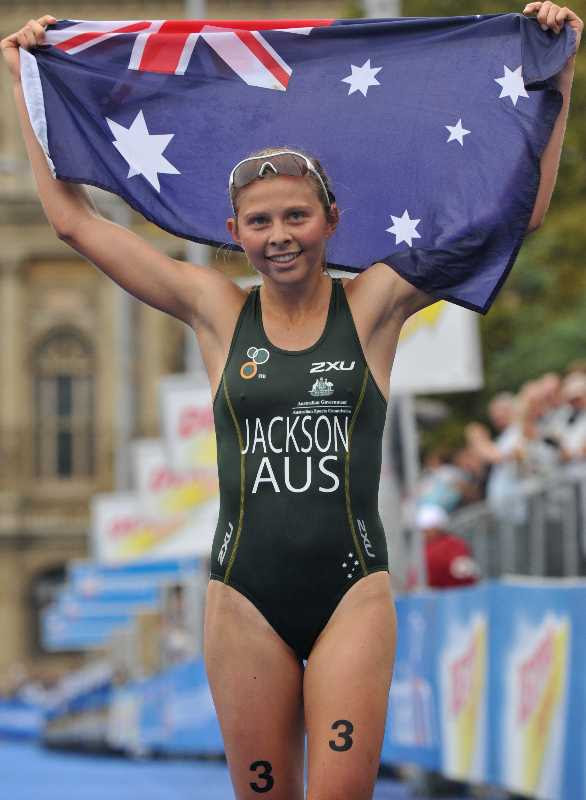 Some of our other triathletes are also achieving great things include Brittany Dutton, Sophie Malowiecki and Matthew Roberts. Brittany won the Female 17-18years category at the Australian Youth Triathlon on March 13. Sophie Brittany and Matthew have all been selected as part of the Australian Junior team for this year's ITU World Triathlon Championships in Edmonton August 26-31.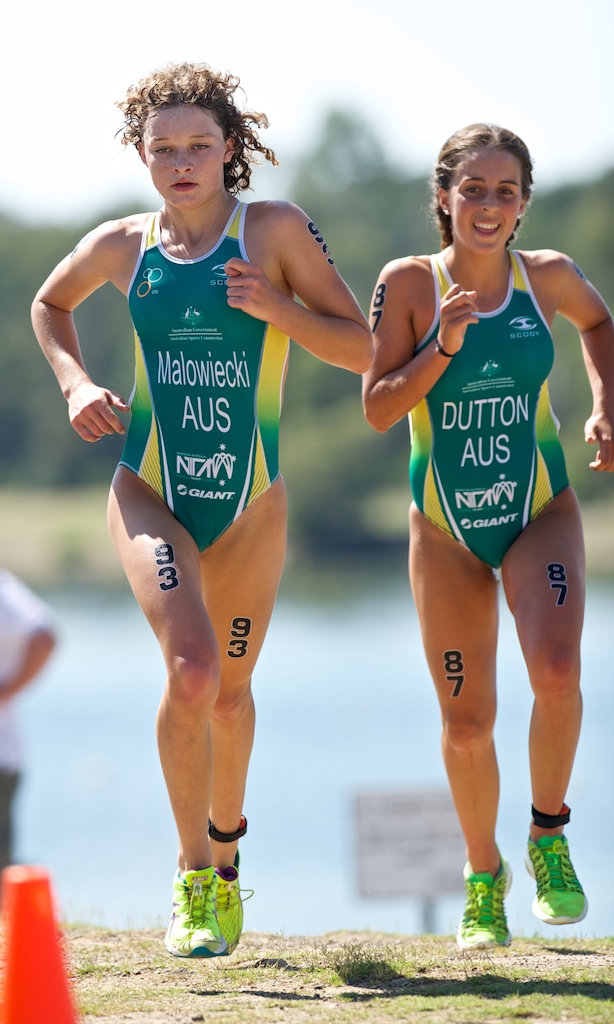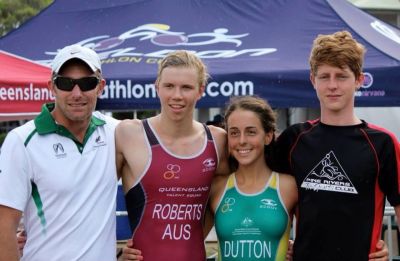 Last Updated on Wednesday, 23 April 2014 16:44
Monday, 07 April 2014 20:55
Nick Schultz wins in France!
While most people were watching Fabian win the Tour of Flanders, Nick Shultz won Stage 3 of the 2.2 Boucle de L'Artois in Northern France riding for Team CR4C Roanne. Nick started with HPRW as a junior from a young age and has always been a classy rider. Well done Nicko! (in yellow)
Last Updated on Monday, 07 April 2014 20:58
Tuesday, 01 April 2014 12:19
2014 ANZAC 25
Our annual open event the ANZAC 25 is rapidly approaching! It's always a great day of racing on a fantastic closed circuit.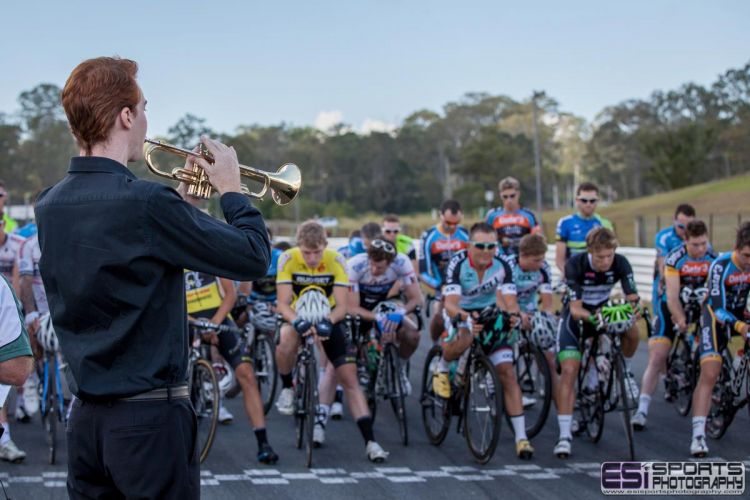 Here are all the details:



Enter now via the Cycling Queensland online entry system.
Last Updated on Tuesday, 01 April 2014 15:01
Monday, 17 March 2014 21:39
Interested in becoming active in cycling without getting sweaty??
Expressions of interest are now being sort from anyone who may be interested in becoming a Commissaire.
We are in desperate need for more commissaires so that our current volunteers can do some more racing and the general load of officiating is spread across the HPRW membership. We conduct races almost every weekend of the year so our few comms are being overworked.
The process in becoming a commissaire is simple:
Indicate your interest by April 2nd to Secretary Wayne Wilson
HPRW will get all course material for you at NO COST
Candidates have a few weeks then to read course material
Workshop session at the clubhouse – 2 hours maximum, no cost – after Easter (precise date to be confirmed)
Practical Assessment then takes place over a total period of 10 hrs, about 5 race days in total.
You pass the assessment and become a Level 1 Commissaire
HPRW is forever grateful for your assistance and interest.
Now... what could be easier???
So contact
Willow
(click on the link), indicate your interest and for no cost to you, you can become a vital part of the HPRW racing scene.
Monday, 17 March 2014 21:31
2014 Track Masters National Championships
Patrick Weinrauch, Neil Hamey and Andy Patten travelled down to Victoria for the 2014 Masters Track National Championships Mar 12-15th.

Neil rode strongly particularly in the Individual Pursuit, and Patrick won Bronze in the MMAS3 Scratch Race and Bronze in the TT. Andy won Gold in the MMAS4 Individual Pursuit, Points Race and also collected gold in the Team Pursuit! Well done boys!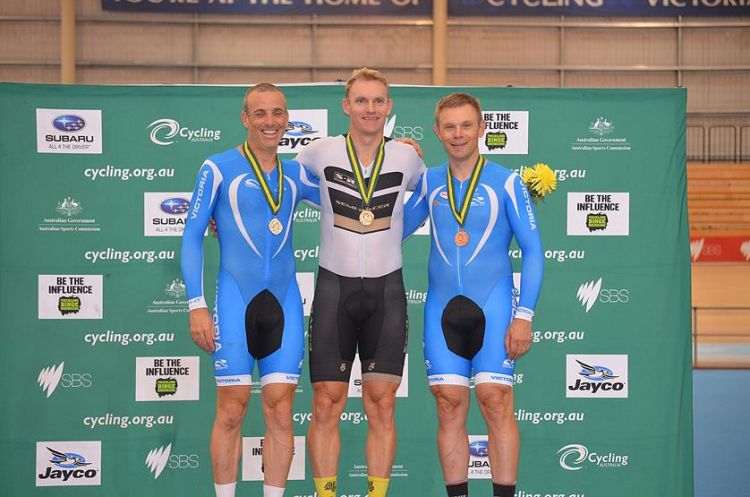 Monday, 17 March 2014 21:21
Wayne Wilson - Life Member and Mountain Goat!
Hard working and unflappable Club Secretary Wayne 'Willow' Wilson was recently awarded Life Membership at the Annual General Meeting. Wayne has worked tirelessly for the club for well over 10 years now and this award is extremely well deserved.

Despite rapidly approaching his 60th birthday, Wayne is in the form of his life, just last weekend completing the 3 peaks challenge in under 10 hours!

This shot courtesy of Marek Marchewa shows Willow looking like..well..like he'd just done 3 peaks :)




Here's a very cool video showing what a tough ride this is!


Monday, 17 March 2014 21:09
2014 Sizzling Summer Series
Great to see so many HPRW riders at the Ausenco Sizzling Summer Series. Round 2 saw some more of our juniors competing including:
Marly Harrison U9
Maddison Dillon U15
Aidan Kersley U15

James Jackson had an unlucky crash in Masters B while in the leaders jersey but still finished strongly despite some bark taken off and a tweaked bike. Shannon Duggan got a prime in Masters B also. Jane Walker was third in Elite Women and Steve Froome was a strong 3rd in Masters D while wearing the leader's jersey. More to come when all the results are out.



(photo courtesy Hans Giessler)

Lots of pics available online from our mates at ESI Sports Photography.

Last Updated on Monday, 17 March 2014 21:28
Tuesday, 11 March 2014 08:33
Race Report - Jess goes National
We have many HPRW members competing everywhere from club races, to opens, state champs, national champs, international racing including World Championships and Olympic games. We also have quite a few members who are very successful in other events such as triathlon and endurance MTBing. Here's a race report from Jessica Toghill who has recently been competing interstate at the TDU, Nationals and the Oceania Champs and is riding for the Total Rush - Hyster women's team. If you have any news about our members 'going large' please let me know.

Here's the report from Jess:



Elite Nationals Ballarat January 11th

I travelled to Buninyong with no real expectations on myself except that I would give it everything. The elite women's field was stacked with the best 60 girls Australia has to offer and with many girls racing professionally overseas I knew this would hurt. The best way to describe Mt Buninyong would be to compare it to riding Mt Coottha front to back except Mt Buninyong climb is longer at 3km averaging 6% and the lap is 10.2km. The women's race was 10 laps. Being a sprinter I was not overly excited at this prospect but I packed my race face so I was ready to see how things panned out. As expected it was on from the gun. 500 meters to the first left turn, then the start of the first climb. Girls were getting dropped from the first go up the mountain so I just tried to settle in and keep a good rhythm. The crowd support was amazing and people running next to you up the climb was quite surreal. I thought that only happened in Europe. Cow bells and people yelling encouragement made a very tough climb that little bit easier. After the KOM on lap 3 I decided to have a bit of a drive on the front of the peloton. Lisa Jacobs had already gone up the road so I decided to do a bit of work for my

Total Rush - Hyster

team mate. This would eventually cost me later in the race, but I enjoyed it anyway. Coming around for lap 6 I was at the back of the severely depleted peloton to collect another water bottle from the feed station, when some girls decided that was a good time to create group panic. I stayed with the kick initially but my legs decided I wasn't going any faster. I got dropped along with several others. We worked well together for the remainder of the 6th and 7th laps but just as lap 8 started our little group saw the red flag. We were time gapped from the leaders and our race was over. I was happy and disappointed at the same time. Happy the pain was over but disppointed I didn't get to finish what I started. One thing I can take away is that I know that I could have finished and next time I will.

Santos Women's Cup Adelaide January 19th - 21st

A week after Nats I was off to Adelaide to compete in the women's part of the TDU. A 3 race series comprising of a Crit as an opener to the Peoples Choice Crit of the TDU, a 108km road race, and a twilight hot dog Crit around North Adelaide.


Stage 1 was a 45 minute Crit around the streets of Adelaide just prior the the TDU guys racing the same course. Coming out for the warmup I was totally overwhelmed with the amount of people there. Approximately 100,000 watching from the sidelines and on big screens located around the course perimeter. 76 girls lined up at the start and once again it was who's who of women's cycling. Orica stacked their team with 9 including their international stars as well as all the major NRS teams representing. Straight away we were averaging 50km/hr for the first few laps and everyone was getting nervous around some girls that really shouldn't have been there. It was kind of like a Nundah B gradewith a few C graders pretending they belonged. Girls getting shelled off the back everywhere until the first big crash. Around 10 involved and a few broken bones resulting. Luckily I stayed out of trouble andthe pace dropped back a little due to one of the Orica girls going up the road and the rest playing the perfect team tactics by slowing the peloton down. 10 mins to go there was another crash and this time I got caught up in it. The girl in front came down and her bike bounced up and hit me in the neck. I managed to stay on my bike but I took a lap out. Willow was there on the side to have a quick chat before the girls came around again for me to join back on. I crossed the line 21st place which I was happy with after all the carnage and with an average speed of 44km/hr. The crowd was amazing and it was awesome to see so many HPRW people there cheering me on.
Stage 2 108km Road Race Barossa
The road race was held on the same course the TDU would compete the following day in the beautiful Barossa. It was a warm 33 degrees which was quite considerably cooler than the 46's the area received the week before, but still hot out on the road. The feed stations for this race were after lap 1 (45km) and at the top of Menglers Hill which was the 85km mark. No feeding from team cars was allowed for some ridiculous reason.
The race started with a flurry to try and establish a break away. This went on for the first 20km before the break was made and at an average speed in the high 40's I was glad when one eventually stuck. We completed lap one faster then the TDU guys completed their first lap on the next day which just goes to show how strong the girls are racing these days. I was in the group at the completion of the first lap until a small but steep 15% climb saw me cramping horribly. I almost held on but my legs weren't cooperating. I spent the next 20 mins riding in and out of the convoy trying to gain contact to no avail. The police escort told me there were 5 girls about 800 meters behind me so after being on the rivet for the better part of half an hour I decided to sit up, take on fluid and gels, and join the other girls chasing. We all worked well together rotating the pain which I was happy about as my cramping was getting worse. I ran out of water at the 60km mark along with the other girls so we were keen to get to the top of Menglers if for no other reason but to have a drink. We turned the corner at the climb of Menglers Hill to see a steady climb in the range of 8-10% with some steeper sections of 18%. We were all pretty cooked at this stage (see photo below) but kept a good rhythm going to the top of the climb but the cramping was becoming a real problem. I had my water wench (Jemma Brown) the top of the climb and I was so happy to see her. The water from the biddon seemed to evaporate before it hit my tongue and it was all gone in one minute. No water left again, but this time it was 15km downhill mostly to the finish. We finished as a group 10 mins back in 27th to 32nd place from the eventual winner from Orica, once again, which I was pretty happy with.
Stage 3 Prospect Crit.

The officials from Cycling SA decided that only the top 40 riders would compete this stage due to the very small course and the rest of the riders would compete in a B grade. I made the A grade race but 40 riders was still a lot for this course. It was a hot dog course with very tight turns and 300m straights. The first lap was supposed to be neutral but the Orica girls thought otherwise. By the time the whistle sounded to start the race proper I was already half a straight behind. It was carnage with riders getting dropped, then red flagged as the Orica girls systematically started lapping people. There were only 23 riders left when it was my turn to see the red flag and just like that the race was over. 10 girls would actually finish that race in the end with the other 30 eliminated. Orica once again dominated and took the stage win.
Oceania Championships 22nd Feb Toowoomba.
With the title of Oceania champion, the jersey to be able to be worn in UCI events, and the winner being eligible to race in the UCI world champs I expected the who's who of women's racing at the event. Disappointingly only 23 girls reported at the start line in comparison to the 140 odd in the guys race, but the talent was definitely there. Lauren Kitchen flew back from Europe for the race and the Australian Team were there in numbers as well. With a strong crosswind present and no where to hide in such a small peloton all I can remember thinking on the start line was this was going to hurt. It did. The race started off relatively well but just as we hit the back straight when we were exposed to the wind the most, the attacks started. A group of 4 got away and I tried to bridge when I looked around to see the Australian AIS team sitting on my wheel not wanting to roll through due to one of their girls up the road. I backed off to try and conserve but I had already redlined. A series of other attacks saw me pop off the back and there was nothing I could do. I had nothing left so I tried to get into my own rhythm and work at making the ground back and hope a few other girls would join me. Nikolina and a Specialized girl eventually joined me and we took turns rolling for a bit but Nik was cooked and pulled out on lap 1. I spent the next 2 hours and 80km working the other girl and laughing with the guys in the sag wagon that were following us like a white pointer telling them that we were catching the peloton. Finished in 18th and once again happy with the experience albeit very sore.
Photo courtesy of
Veloshotz
Last Updated on Tuesday, 11 March 2014 08:55
Saturday, 01 March 2014 22:12
Mitch Mulhern World Championship Gold!
Huge congratulations are in order for HPRW member Mitch Mulhern on winning gold in the Team Pursuit at the Track World Championships in Cali, Columbia.

Mitch has worked very hard to finally get there and this gold medal is a fantastic achievement!


Monday, 17 February 2014 22:21
Rocky Cup on Wheels Report
Some of our hard core trackies travelled up to Rockhampton for the 2014 Rock Cup on Wheels. Here's Maria Hull's report:



Report from Rocky Cup

Sarina Hull & Colin Chapman were our HPRW Juniors attending the CQ University Rockhampton Cup on Wheels.

Both of these juniors had a great time at this event - Sarina not only had a socially fun time she rode really well & managed a 2nd place in a handicap race.

Colin was in his element - I have lost count of all his placings. He had some sensational wins in there too!!! (including 1st in the 4 lap U17M handicap)

He got 3rd place in the Rocky Cup Wheel race!!!
Update: 4 x 1st place 1 x 2nd place 2 x 3rd place & 1 x 4th place

Well done Sarina & Colin.

There were a few of us ladies that went up as part of SE Qld Women on Track which included some HPRW women. Sadly Donna Fyfe was involved in a crash at Twilight last Wednesday & couldn't make it. And Jeanette Davidson (Pocket) pulled her cleat on the first race (see her post). With Dimity Hopes & myself left from HPRW - Avanti Plus the Valley.

Dimity Hopes picked up a 3rd place & I managed a couple of 3rd places.

This event catered well for women with 3 graded fields - A, B & C.

This is a great 2 day event that is well run & we are already planning next years trip - something to think about because it is well worth it.

Full results are

HERE
Colin Chapman picked up too many podium places to mention!
Get well soon Jeanette!
Last Updated on Friday, 21 February 2014 08:55
Thursday, 13 February 2014 01:03
Clubhouse Official Opening
Our new clubhouse was officially open on Wed 12 Feb 2014 after the final round of the twilight criterium series. Cutting the ribbon was the Hon Steve Dickson, Minister for National Parks, Recreation, Sport and Racing and Norm Wynham, Councillor for McDowall.

Many distinguished guests, club life members, past and current members, representatives from other clubs, Cycling Queensland and club sponsors and friends were in attendance.



Thanks for our friend ESI Sports Photography for these photos, which can be purchased free of the watermark on their

website

. Message from

ESI

"

Feel free to tag yourself or friends, use these photos as your profile pictures and share them with family/friends on social media. However due to copyright laws you must leave the watermark intact, and do not change or alter the images in any way, THANK YOU

"




The new HPRW clubhouse has been made possible through the generosity of our funding partners - Department of National Parks, Recreation, Sport and Racing under the Get Playing Program and Brisbane City Council Community Sports Club Grants Programs and through the hardworking efforts of HPRW members past and present.

The club would like to thank the many people whose put countless time and effort into achieving this milestone for our club as well as the life members and guests from our extended community who attended, including:



Last Updated on Wednesday, 19 February 2014 11:36
Tuesday, 14 January 2014 22:32
Jordan Kerby wins U23 ITT National Championship!

In a nail-biting finish HPRW member and Drapac teammember Jordan Kerby won the U23 National ITT Championship in Ballarat. Jordan is in fine form and is currently leading our Twilight Series winning in both bunch sprints and breakaways. Well done Jordan!


Tuesday, 17 December 2013 17:39
Brisbane Blast
The Brisbane Blast inner city criterium last Sun (Dec 15) was a big success with some great racing on a course with some tricky corners and a long power climb up Alice street that did a lot of damage.

HPRW riders did well with Jim Murphy winning Masters C in fine form, Stephen 'Lakeside specialist' Meharg blitzed them in Masters B, Adam Barnes 3rd in Elite C and Colin Chapman was 4th in U17.

Other riders all rode well with a large contingent in the Masters A & B races.

Plenty of photos are up on the Veloshotz site and full results via Cycling Queensland.
Thursday, 12 December 2013 21:53
A Video introduction to HPRW
Check out this great introduction to HPRW put together by Grant Dawson, with commentary by Kim Flesser! Fantastic work Grant!
Last Updated on Thursday, 12 December 2013 21:58
Tuesday, 10 December 2013 13:35
World Cup Gold Medal for Mitch Mulhern

HPRW member Mitch Mulhern was part of the gold medal Australian Pursuit Team at the Track World Cup Round held in Mexico Dec 5-7 2013.

Mitch rode with Glenn O'Shea, Alex Edmonston and Alexander Morgan beating Denmark in the final in a super fast time of 3:55.8

http://www.sbs.com.au/news/article/2013/12/06/australians-score-track-cycling-gold
Last Updated on Tuesday, 10 December 2013 14:26
Monday, 02 December 2013 12:44
HPRW at the Tour of Bright
Several of our members travelled down to Victoria for the annual Tour of Bright, and had some absolutely fantastic results! It's become one of the most popular races in Australia - read all about it in this cyclingtips article.



Mitch Neumann in B grade won Stage 3 up Mt Hotham, won the KOM classification, and ended up second overall by 0.1 of a second! In C grade Reuben Phillips came second on Stage 2 to Tawonga gap, third in KOM classification, and second on the GC. Angus Fisk also competed in C grade finishing strongly in all stages. Well done boys!

Full results and photos on the

Tour of Bright website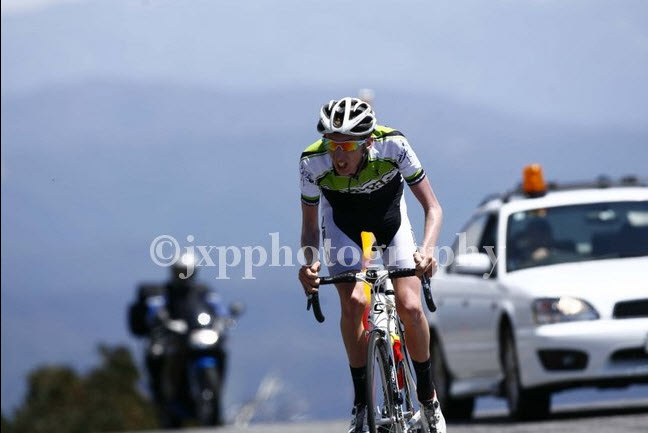 photo copyright
jxpphotography
Last Updated on Monday, 02 December 2013 13:00
Thursday, 28 November 2013 21:26
Bravehearts Time Trial
Sun 24 Nov was the Bravehearts Time Trial, where we have several HPRW members riding. Andy Patten was the fastest individual rider of the day with an amazing time of 1:01:55, all this after a merry late night at the CQ awards. To put that time into perspective Robbie McEwen and Michael Hepburn rode 1:00:54 as a team!

In the Teams Time Trial we had the golden team of Mick Wilkinson, Laurie Kelly, Phil Gibson and Jim Loyden who set a very good time of 1:33:50, although I think Mick fell off and has cracked a couple of ribs. Get well soon mate! Ian Murdoch was also competing in a team.

Full results and write up on the Bravehearts website
Sunday, 24 November 2013 23:05
2013 Cycling Queensland Awards Night
The 2013 Cycling Queensland Awards was held at the Pullman Hotel and was a great night with lots of HPRW riders in attendance, many of them nominated for awards in both road and track, Elite and Masters.

Awards on the night went to:
Andy Patten - Senior Masters Male Road Cyclist of the Year
Katie Chapman - U19 Female Road Cyclist of the Year
John Murazak - Masters Male Road Cyclist of the Year
Jessica Toghill - Masters Female Road Cyclist of the Year
Jordan Kerby - Male U23 Road Cyclist of the Year

Also nominated for awards were:
Maria Hull
Rachel Edwards
Mel Symon
Gary Kristensen
Les Preston

If we've missed anyone please let us know.

Conratulations also to our many non-club member friends and competitors who took out awards, including ESI Sport Photographer Tadii McLean who won best media photo of the year.

Hamilton Pine Rivers Wheelers also were awarded Queensland Cycling Club of the year!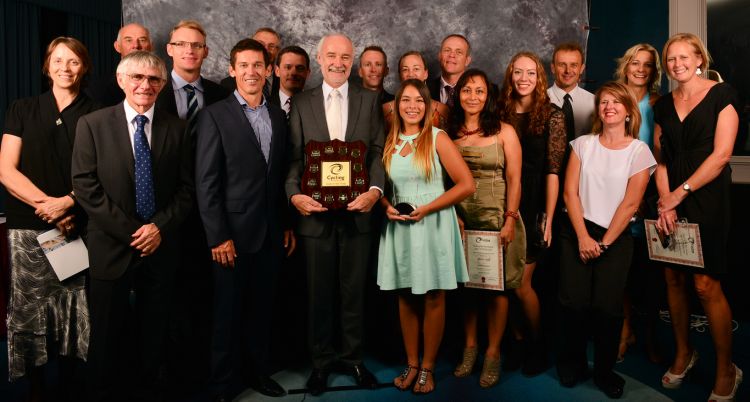 Last Updated on Monday, 25 November 2013 21:02
Tuesday, 12 November 2013 22:24
Changes to C1 and C2 start times and riders

In and effort to balance numbers between grades we are making a few changes:
Since the 6:45am start times are popular, as a trial during summer season we are swapping the start times for C1 and C2.

Moving some riders from C1 to C2, and B to C1. In addition to these riders, i

f you have not scored points in C1 this season, or are in D grade and feel ready to move up and would like to be regraded please contact the This e-mail address is being protected from spambots. You need JavaScript enabled to view it .
Here are the revised start times for Nundah
A Grade -
6.45am
C2

Grade -
6.46am
B Grade -
7.35am
C1

Grade -
7.55am
D/
E
Grades
8.30am
Juniors -
9.05am

Riders in C1 and B grades are asked to make an effort to ensure these two grades remain well seperated. If riders do not, the commissaire will neutralise one grade, which could affect the outcome of your race. Please watch for the marshalls and commissaires advising that you are about to be passed.
Last Updated on Monday, 25 November 2013 10:19
Tuesday, 12 November 2013 21:23
Summer Roster 2013/2014

We have done another random draw for the summer roster, which can be viewed here. If you have received an email regarding the roster could you please contact Adam by December 1st (or earlier if you are rostered before then) to either:
Confirm your availability
Arrange a date swap
Advise you will be unable to complete your rostered duty due to other committments (work, school sport,travel etc)
Let us know we've made a booboo and you've already helped out during the winter season - we'll take you off the list (and thanks!)
We are requesting this so we are able to accomodate member's requests for an alternate date, and so we know in advance whether we are able to run each particular event. Without it, we have very often been stuck well short of the volunteers needed to conduct races safely and in compliance with our permits and regulations. This in turn means that someone else has to give up their own racing to fill in - and that's not fair, particularly as it's the same devoted members who fill in for other time and time again.

Even if you are not able to complete your roster duty at all this year, please let us know.

Members are asked to help out just once per year, and in return you get a warm fuzzy feeling PLUS a $10 race entry voucher.

If you haven't been contacted but would like to help out - we love you!
Last Updated on Tuesday, 12 November 2013 21:50
«

Start

Prev

1

23NextEnd »
Page 1 of 3