Details

Hits: 23
Hamilton Wheelers Elite Team
Our new Elite team had their first race at round one of the Queensland Road Team Series (QRTS) with a night crit at Cleveland and a road race the next day at Gatton. Here's a quick race report.


Round 1 - Cleveland / Gatton - 21-22 May - Twilight Criterium -

Gatton Road Race

The HWCC team did well on the weekend – Pickles made the A final crit on Saturday whilst on Sunday he and James Madigan finished the RR 130km well in Gatton with James leading the chase pack until 300m from the finish line.

Baz Mead had some bad luck on Sat and the pace of the RR on Sunday was telling on many teams.

Note Stephen Lowe, Nic Rider and Jarryd Whittaker are not in the team photo but are rearing to go for Rd 2 at Warwick July 2-3.

The Brisbane Camperland Queensland Road Team Series (QRTS) is Queensland's premier road racing series where 26 teams of the leading riders in the state compete over four rounds to decide the winning riders and teams across a number of categories. Taking place throughout southern Queensland, the Series offers riders and teams the opportunity to test their skills during a range of individual and team time trials, road races and criteriums. This diversity ensures a range of development and competition opportunities for riders. CLICK HERE for more info.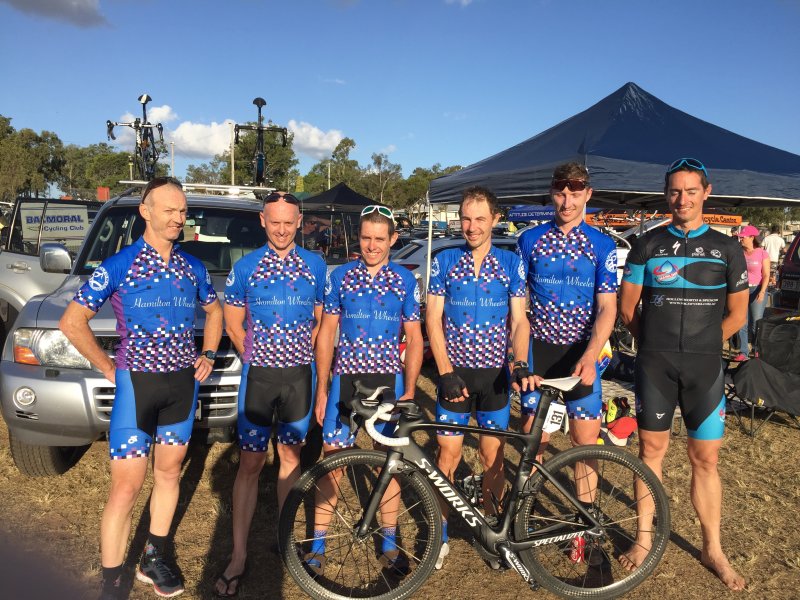 Details

Hits: 445
2016 Bill Osbourne Memorial Handicap Details
Details for our annual Bill Osbourne Memorial Handicap Road Race are:

Date: Sat 21st May 2016
Time: Signon from 12:30pm, Race start 1:30pm
How much:Entry fee is

$15

(the extra $5 is to cover professional traffic control costs)
Distances: There are two races. Division 1 is riders graded A/B1/B2&C1 with our club and is two laps around the course (64km). Division 2 is for riders graded C2 or D with our club and is one lap (32km).
Where: School Rd Elimbah (click for google map)
Course Map and Profile: MAP
Who: The race is open to all Cycling Australia RACE or 3 day Licence Holders
Register: As this is a handicap, all riders must nominate by Thu 19th May to allow the handicapper to suitably place all riders

Who was Bill Osbourne? Bill was a tireless worker for the club during the 1960's through to the mid 1980's. He was President/Chairman for over a decade and was granted life membership during the 70s, receiving his Bar in the mid '80s. His widow used to attend the Memorial for many years. This long standing race is in Bill's honour.

Register Below


Details

Hits: 60
Club Kit Portal Open until Jun 9
The Club kit Portal opens from Fri 20th May until the 9th of June.

Anyone who wishes to order any gear that is not stocked by the club, please feel free to order to your hearts content

via the

Portal




Click

HERE

for full details on our kit and you too could be winning in style :)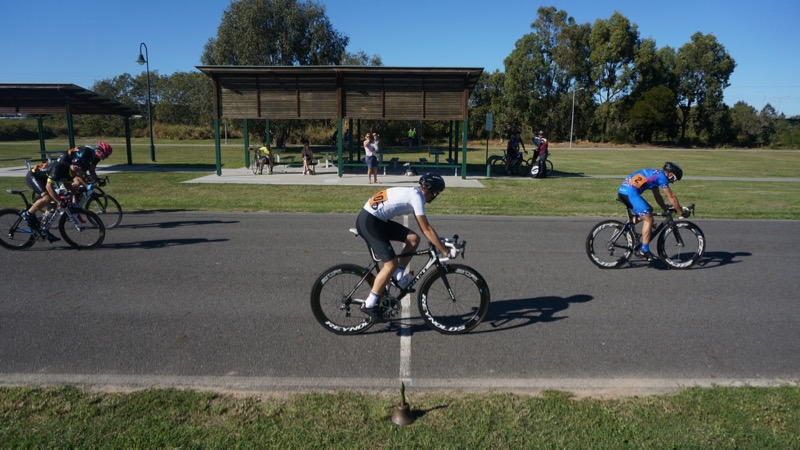 Details

Hits: 425
Gaz's Guide to the 2016 Winter Season
Thanks to Gary Alcorn our Club Statistician for this Winter Season Guide which will hopefully be useful to those new to the club, and those not so new!

The 2016 Winter program starts Saturday 9th April with an Individual Time Trial at Closeburn (just past Samford on the way to Dayboro).



The committee has provided a varied group of events on both closed circuits and the open road (yes that means hills) which should appeal to all members. There are several key events throughout the year which we encourage you all to support.

1. Our one "open" event at Lakeside Park, the Anzac 25 on April 25th.
2. Two annual perpetual trophy events - the "Soldiers Honour" and the "Bill Osborne Memorial"- which are handicap races for both Division 1 and 2 riders.

The Club Championships are held over three events, a Criterium, a Time Trial and a Road race. These are run in each of your CA licence categories. A special Hamilton Wheelers Jersey is awarded in each category to the rider who accumulates most points over the three events.

Note that the points score for the Perpetual Aggregate Trophy is different to the 6 monthly points used for grading.

Throughout the season points are allocated for results in most events and a Perpetual Aggregate trophy awarded at the end of the season to the rider with the highest points aggregate. As well as getting points for placing in events, points are awarded for starting and finishing, fastest times, first unplaced lady etc. The points are weighted to give more weighting to the higher grades to compensate for competition from visiting riders. It is thus a trophy that rewards results and consistency. The points system for the Perpetual Aggregate Trophy are below.


Details

Hits: 479
2016 Club Criterium Championship Details
This Sunday May 15th is the Hamilton Wheelers Club Criterium Championship - round one of three in the Club Championship Series.

Racing is for Hamilton Wheelers members only
ROUND 1 Criterium Championship - This Sun May 15th
ROUND 2 Individual Time Trial Championship Sat Jun 25th Closeburn @ 7am for Seniors
ROUND 3 Road Race Championship Sat Aug 20th Elimbah @1:30pm
Seperate races are conducted for male and female riders in each age division (not by grade). Age divisions are U9,U11,U13,U15,U17 and U19, Elite and Masters. Masters divisions are:
Masters 1 (30-34) (male only)
Masters 2 (35-39)
Masters 3 (40-44)
Masters 4 (45-49)
Masters 5 (50-54)
Masters 6 (55-59)
Masters 7 (60-64)
Masters 8 (65-69)
Masters 9 (70-74)
Masters 10 (75+)
Womens Masters start at Masters 2. Some age divisions race together in the same race but seperate points are awarded for each division. Combined divisions are:
Women Masters 2,3 & 4
Women Masters 5,5,7 & 8
Mens Masters 8,9 & 10

Masters age Male riders who have paid extra for an Elite Licence may race in either Masters OR Elite. You cannot change division during the championship.





Finalized Schedule of Events for the Criterium Championship this SUNDAY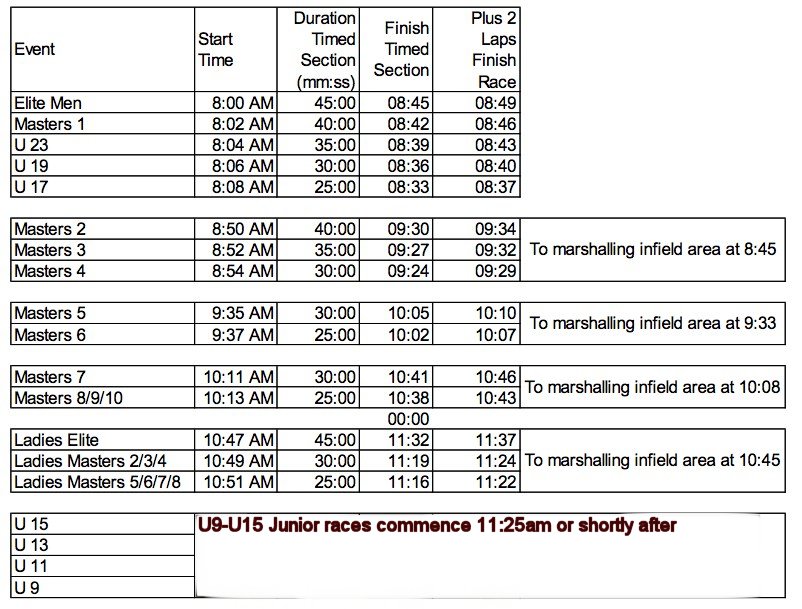 Club Championship Events.
The Club Championship events are conducted in each of the CA divisions. As such, they do not form part of the Winter Aggregate point score, but are scored on the following basis in each of the three events.
First 10 points plus Gold Medal
Second 6 points plus Silver Medal
Third 4 points plus Bronze Medal
Start 1 point
Finish 1 point
Perform rostered duty 2 points
A special "Champion's" jersey is awarded to the rider in each category with the highest aggregate points and who has competed in all of the three club championship events. There must be more than one rider in the category for a jersey to be awarded.
Details

Hits: 86
Elliott Schultz part of Emerging Talent Squad

A quick shout out to Elliot Schultz who is focusing on road this year and he's going really well and loving his cycling. He had a great win in U17 at the ANZAC 25, did really well at the Canberra Junior Tour and has just been selected as part of the QLD Emerging Talent Squad for Road. Well done Elliott!
Details

Hits: 148
2016 Grafton to Inverell
Hamilton had quite a few members in this iconic race.

In A Grade Mitch Neumann had a good race, and tried to bridge across to the break of 11 who had a 9 minute gap at the start of the Gibraltar range and paid the price a little but still finished within 10 minutes of the winner's record time. A good ride Mitch!

In B Grade Calem Wilcox took third place, and Ryan Wilson 5th place, Reuben Phillips 16th and Ian Johnston 24th, Barrie Mead 27th, Anthony Zahra 36th and Matt Baxby 52nd.

In C Grade Wayne Wilson fought hard after missing the early moves, arriving in Inverell in just over 8 hours, catching Nicholas Rider and riding together to the line.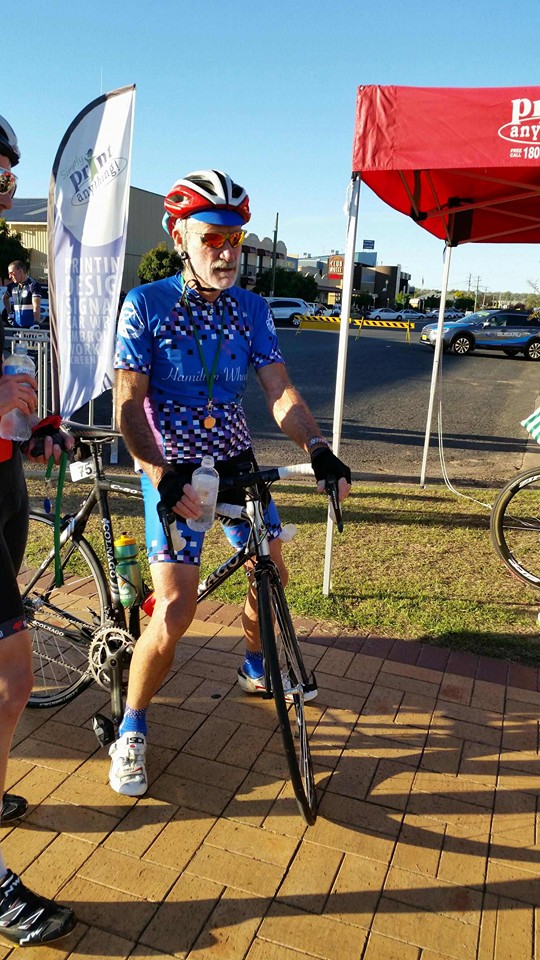 Willow just after the finish.

Report and some great photos from our friends at ESi Sports Photography at cyclingnews.com

Full results here

http://metarace.com.au/road/g2i/program



Details

Hits: 205
2016 State Criterium Championships
A special thank you to the HWCC catering team led by
Jenni Eason
who provided great coffee and food for all the riders, spectators and officials at the crit championships. It was a long day for them all and the club raised a very tidy profit.
Details

Hits: 155
Ipswich Junior Tour
While seniors punished themselves in the 'race of truth' some of our juniors competed in Ipswich Cycling Club's Junior Tour.

Criterium Results available HERE Full results to come.

Alexandra Larsson won the U11 girls criterium, and Myles Houghton was 3rd in the U11 boys. Stephanie Leech had a great time in her first open race, winning gold in TT, crit and Road Race. Well done to all our Juniors!



Details

Hits: 325
2016 Annual General Meeting

Thanks to all for attending the AGM and a big thank you to those who put up their hand to fulfill one or more of these roles, and we warmly welcome new officials Matt Smart as Club Captain, and Sam Collins as Social Secretary.



Office Bearers

President: Graham Robinson

Vice-President: Mark Croonen

Treasurer: Jenni Eason

Secretary: Wayne Wilson

Racing Secretary: Wayne Wilson

Chief Commissaire: Peter McDonald

Club Officials

Handicapper: Adam Harrison

Assistant Handicapper: Mark Croonen

Assistant Treasurer: Andrea Alexander

Volunteer Coordinator: Wayne Wilson

Property Officer (Kit): Wayne Wilson

Club Captain: Matt Smart

Vice & Ladies Captain: Saskia Deckers

Statistician: Gary Alcorn

Website: Adam Harrison

Newsletter Editor: Kim Flesser

Social Secretary: Sam Collins

Club Coach (inc Junior Coach): Kris Kersley

Junior Development Officer:Trudi Whelan

Assistant Junior Coach: Trudi Whelan

To contact these people use the

Contacts Page

. Remember all these people are volunteers and have jobs and families so please be patient.
Details

Hits: 204
Tyalgum Cup 2016
Quite a few riders travelled across the border to Tyalgum for Murwillumbah CC great annual event over a tough course with beautiful scenery.

Full results

Photos courtesy of Veloshotz



Dan Wilson had a great ride in Elite A in a break of 5 and finished 4th.



Gordon Baudino had a strong win in Masters D.

Details

Hits: 499
The "Hamilton" - a new cycle event
"The Hamilton" is an endurance cycle race event – a modern version of 6 day cycle races. This is an idea put forward to the club by Gary Alcorn our Club Statistician. You can send Gary feedback via the
Contacts page
.
Conducted at Nundah criterium circuit on September 4th.
Event duration 3 hours.
Open to Elite and Masters A male riders.
A maximum field of 30 two man teams.
Entry $100/ team. Prizemoney 1st , $1,500, 2nd $1,000, 3rd $500 - provisional
The winning team is determined by the one who has recorded the most laps covered in the 3 hours. In the case of a tie, the team with most points gained through the "Prime" periods will be the winner.
The composition of the event is as follows.
a)The three hours is broken up into 15 minute segments – each alternate 15 minute period will be called a "Prime" period, during which time there will be 3 primes – points will be awarded to the first 3 riders on a 5,3,2 basis. The final Prime carries double points – 10, 6,4.
b) The 15minute "Prime" period will be signalled by a Whistle – the actual prime lap to be indicated by a 1 lap board. Both team riders to be on the track during the "Prime" period.
c) The end of the "Prime" period is signalled by a Bell.
d) The next 15 minutes is "free" - teams may do as they like but one member must be on the track at all times.
e) Each team carries one electronic "Baton" that is passed between the riders so that it is on the track at all times. Laps are counted electronically.
f) Each rider in the team will have the same number, but a different colour.
In the event of an accident:-
a) If all riders are together in one pack – everyone stops at the next marshal point.
b) If there is a breakaway happening, all riders stop at the next marshal point they come to.
Advice will be given to the marshals to restart the event.
The overall time clock will continue to run at all times.
In the event of a mechanical:-
a) If both riders in the team are on the track, the other rider must have the "Baton" and continues alone until his partner can get the problem remedied.
b) If only one rider from the team is on the track, he stops at the next marshal point where the marshal will get advice to his partner who will be sent to the marshal point to get the "Baton" and continue while the repairs are made.
Thus, the aim of the event, as it was in the original 6 Day race, is to gain laps on your opponents, and if there are two or more teams with equal laps covered the winners are determined by the points gained.
If the event is successful, we could try it at Chandler through the Summer period. The number of teams/riders would need to be adjusted to suit the capacity of the track.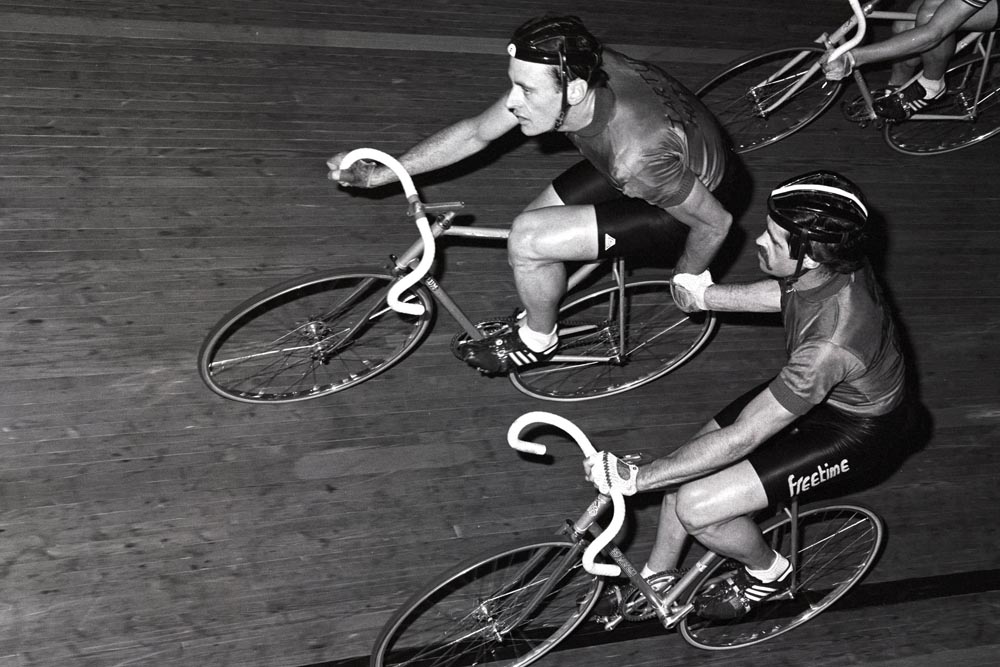 Gary Wiggins – Sir Bradley Wiggins's father – and Don Allen in the Ghent Six in the 1980s
Details

Hits: 187
Harry Sweeny wins U19 ITT at Oceania Road Champs
Congratulations go to Harry Sweeny who won gold in the U19 ITT in Bendigo recently at the Oceania Road Champs.

Details on the CA website.

Colin Chapman was also due to compete but instead underwent surgery to fix his wrist and is recovering slowly - best wishes for a speedy recovery Colin!


| | | | | | |
| --- | --- | --- | --- | --- | --- |
| | | Result: Junior Men | | | |
| Place | Number | Name | UCI Code | Time | Gap |
| 1. | 222 | Harrison SWEENY (AUS) | AUS19980709 | 39:47.4 | |
| 2. | 221 | James FOUCHE (NZL) | NZL19980328 | 40:07.5 | +20.0 |
| 3. | 223 | Robert STANNARD (NZL) | NZL19980916 | 40:17.7 | +30.2 |
| 4. | 235 | Jarrad DRIZNERS (AUS) | AUS19990531 | 40:34.7 | +47.2 |
| 5. | 231 | Alastair CHRISTIE-JOHNSTON (AUS) | AUS19980329 | 41:08.6 | +1:21.1 |
| 6. | 225 | Sebastian BERWICK (AUS) | AUS19991215 | 41:39.3 | +1:51.9 |
| 7. | 239 | Tom GOUGH (AUS) | AUS19980303 | 41:43.2 | +1:55.7 |
| 8. | 226 | Liam NOLAN (AUS) | AUS19900305 | 41:55.5 | +2:08.0 |
| 9. | 230 | Kees DUYVESTEYN (NZL) | NZL19980519 | 41:56.6 | +2:09.1 |
| 10. | 238 | Connor LAMBERT (AUS) | AUS19980315 | 42:07.4 | +2:19.9 |
| 11. | 233 | Jordan LOUIS (AUS) | AUS19981103 | 42:09.0 | +2:21.6 |
| 12. | 229 | Ben MAVRODIS (AUS) | AUS19980123 | 42:22.6 | +2:35.1 |
| 13. | 240 | Joshua BEIKOFF (AUS) | AUS19980821 | 42:40.2 | +2:52.7 |
| 14. | 227 | Thomas MCDONALD (AUS) | AUS19980205 | 42:40.3 | +2:52.9 |
| 15. | 224 | Kelland O'BRIEN (AUS) | AUS19980522 | 42:50.1 | +3:02.6 |
| 16. | 232 | Oliver MURRAY (AUS) | AUS19980311 | 43:10.4 | +3:22.9 |
| 17. | 228 | Louis BROWN (NZL) | NZL19881013 | 43:35.8 | +3:48.3 |
| 18. | 241 | Thomas HODGE (AUS) | AUS19990315 | 43:38.2 | +3:50.7 |
| 19. | 248 | Callum PEARCE (AUS) | AUS19980104 | 44:03.0 | +4:15.5 |
| 20. | 267 | Campbell JONES (AUS) | AUS19990125 | 44:29.7 | +4:42.2 |
| 21. | 242 | Nicholas SIMPSON (AUS) | AUS19980713 | 44:38.4 | +4:51.0 |
| 22. | 266 | Fletcher SYMONDS (AUS) | AUS19990530 | 44:44.4 | +4:56.9 |
| 23. | 263 | Connor SENS (AUS) | AUS19990727 | 45:11.8 | +5:24.3 |
| 24. | 257 | Alistair BARR (AUS) | AUS19900422 | 45:21.7 | +5:34.2 |
| 25. | 236 | Braden O'SHEA (AUS) | AUS19990315 | 45:34.9 | +5:47.4 |
| 26. | 255 | Ross GORDON (AUS) | AUS19980616 | 45:35.2 | +5:47.7 |
| 27. | 259 | Calan WHITE (AUS) | AUS19990402 | 45:45.7 | +5:58.2 |
| 28. | 262 | Liam LAWLOR (AUS) | AUS19990110 | 45:51.6 | +6:04.1 |
| 29. | 268 | Ainsleigh GRAY (AUS) | AUS19991010 | 46:24.4 | +6:36.9 |
| 30. | 264 | Hamish WEBBER (AUS) | AUS19980924 | 46:50.4 | +7:03.0 |
| 31. | 234 | Riley HART (AUS) | AUS19990427 | 47:31.3 | +7:43.9 |
| 32. | 258 | Colby JACHMANN (AUS) | AUS19990518 | 47:32.2 | +7:44.7 |
| 33. | 249 | Declan PROSSER (AUS) | AUS19980208 | 47:45.5 | +7:58.1 |
| 34. | 260 | Darcy WHITTAKER (AUS) | AUS19990928 | 48:26.0 | +8:38.5 |
| 35. | 261 | Brandon CONWAY (AUS) | AUS19990730 | 49:02.7 | +9:15.2 |
| 36. | 246 | Matias FITZWATER (NZL) | NZL19980329 | 49:30.8 | +9:43.3 |
| 37. | 245 | Liam SHERLOCK (NZL) | NZL19980810 | 51:35.0 | +11:47.6 |
| 38. | 250 | Tearloch CARR (AUS) | AUS19981204 | 53:07.6 | +13:20.1 |
| 39. | 265 | Jai KANAT (AUS) | AUS19981211 | 54:24.1 | +14:36.6 |
| 40. | 237 | Oscar ELWORTHY (NZL) | NZL19990906 | 1h04:12.0 | +24:24.6 |
| dnf | 252 | Jake OLIVER (AUS) | AUS19980818 | | |
| dsq | 243 | Kallum PARLEVLIET (AUS) | AUS19980807 | | |
Details

Hits: 314
Phil Kesby wins Wellington to Auckland stage race
Hamilton Wheelers member Phil Kesby recently competed in NZ, in the annual Wellington to Auckland Cycle Race and won the race outright and also winner of his age category.
Stage one included a cat 3 and cat 1 climb and Phil finished 1st, giving him a 2 sec lead and the yellow jersey. He successfully defended the 2 secs and yellow jersey to the end, despite countless attacks and several categorised climbs in the race.
Smallest GC winning margin on record (2 secs)
First Australian to win the race on GC
Phil also finished second on points in the KOM competition.
The handicapper has duly noted his form!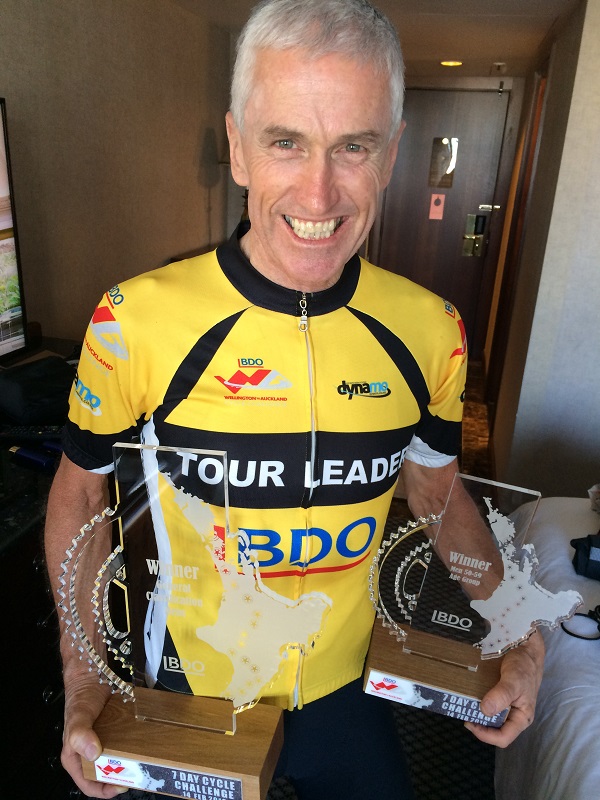 Details

Hits: 244
Trailer Stolen at Lakeside
Last saturday Feb 13th around the time of our race, the trailer shown below containing about $10,000 worth of tools was stolen from the Lakeside grounds. If anyone saw anything suspicious could you please call Adam from Lakeside Management on 0438 124 818


Details

Hits: 248
2016 Qld Masters Track Championships
The Masters Track Championship was held last weekend at Chandler in pretty dodgy weather conditions so the program stretched out into sunday. Our club was well represented across the different age divisions.

Full results HERE



Dave Roest - entered every single event and had a huge weekend riding with huge spirit and a big grin. Dave is now the unofficial club track mascot!

David Wadsworth was not far from medalling in all his events as well.

Garry Reddacliff had a big weekend and came away with at least a Silver in the Masters 6 Scratch Race

Andy Patten, Neil Hamey, and late recruit Garry Reddacliff got Bronze in the Team Sprint

Andy Patten won Gold in the M4 Scratch Race, Gold in the IP and Bronze in the 666m TT.

Jeanette Davidson in Womens Masters 1-2 has been focusing solely on track for a while now and won Gold Time Trial and the Sprint set a new State Record in the Flying 200m (12.19sec)!

Pete Gumbley Masters 8 came away with 4 gold medals for Scratch Race, Sprint, IP & TT and 2 new state records!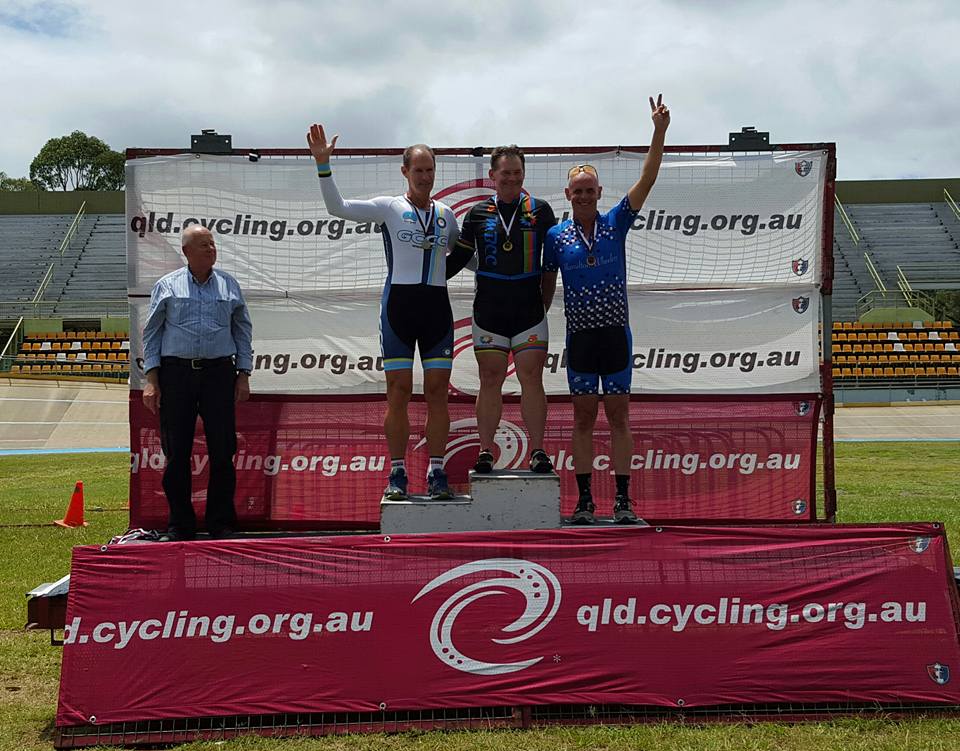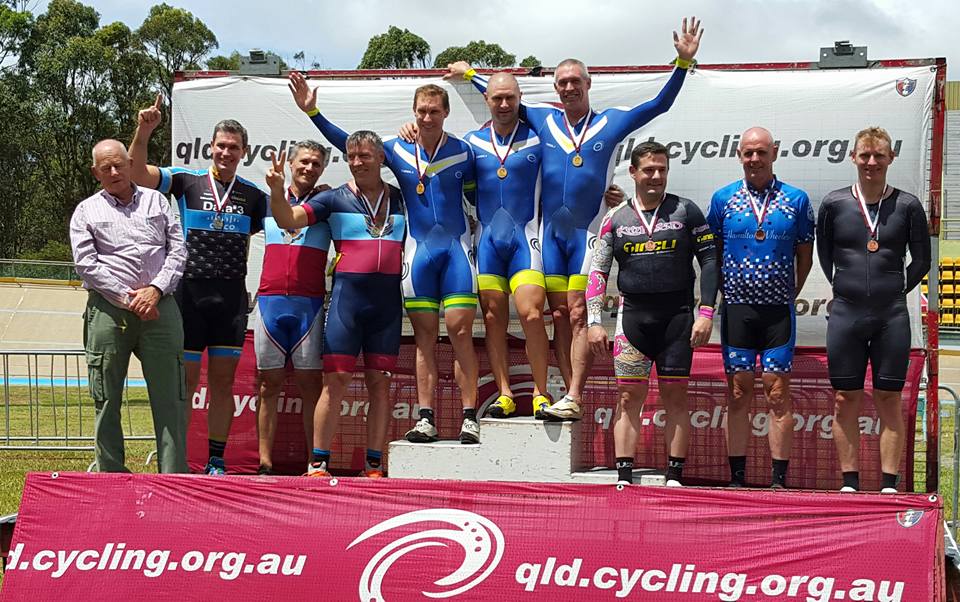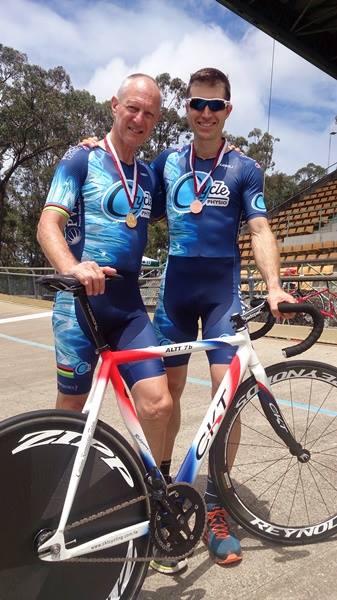 Details

Hits: 640
Wet Weather Policy
Summer time often means storms. Our policy is that a call to cancel or modify the race schedule will only be made at the track by the chief commissaire. Should there be a cancellation every effort will be made to notify via the front page of this website, facebook and twitter as early as possible (6am weekends or 4:30pm for twilight series).
Details

Hits: 669
New Grading System for 2016 season
At the january club meeting it was decided to make adjustments to the grading categories for club racing starting from the beginning of the 2016 season as a trial. We have introduced a second B grade and moved up the C,D & E grades as follows.

| | |
| --- | --- |
| | 2016 |
| A Grade | A Grade |
| B Grade | B1 Grade |
| C1 Grade | B2 Grade |
| C2 Grade | C1 Grade |
| D Grade | C2 Grade |
| E Grade | D Grade |
| Juniors A/B/C | Juniors A/B/C |

Hopefully this better reflects the spread of riders and allows us to even out the numbers in each grade. All riders stay in their existing grades for now, but there may be some regradings done to balance out numbers based on ability, experience and performance. Please bear with us as there is bound to be a bit of confusion about what each grade is called!

A full explanation of the grading system, grading lists for both club members and visiting riders, 6 months points score and full rider history can all be found on the Grading page.

Twilight Series grades remain unchanged. Points system and grading application process also remains unchanged.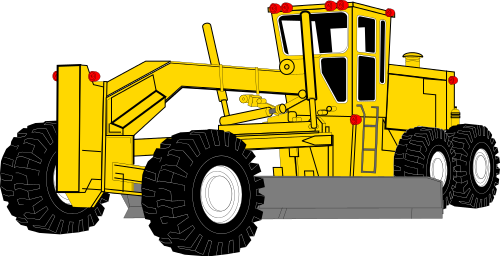 (not our new grading system)
Details

Hits: 668
2016 Membership Changes

If you haven't already done so, now is the time to renew your club membership and Cycling Australia Licence.

There are a few changes for 2016 including:



Race

now replaces the terms Racing and Gold licenses


Ride

now replaces the terms Silver & Recreational



Details

Hits: 720
XMAS FUN DAY PROGRAMME
Sunday, 20 December 2015.
HWCC MEMBERS, 3 DAY LICENCES and NON BRISBANE VISITORS ONLY.
Free race entries. All place getters get a commemorative ribbon (no cash).
All activities including Start/ Finish in front of Clubhouse. Reverse direction.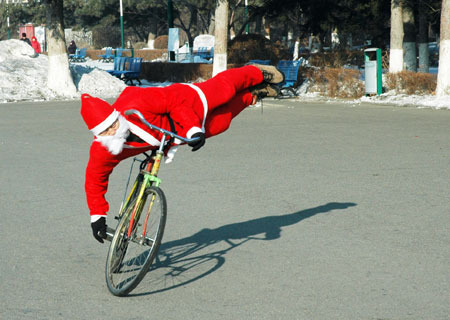 7.00 – 7.30 am - D & E Grade. Drop & Run Race. - 25 mins
7.01 – 7.30 am – Combined C Grade. Drop & Run Race. – 25 mins

7.35 – 8.00 am – A, B & C Grade Juniors.

8. 00am - "Barbecue Bob" at his best. Free sausage sizzle starts for all present. Sausage, bread, sauce.
8.00 am - Chris Marty's Bluegrass Mullet Gut String Band plays.


8.05 am - "Harrison Handicap" is a one lap pairs handicap. Each pair can be made up of a parent & junior, partners, significant others, bro-mances, BFFs etc. but they must be at least 2 grades apart (e.g. Junior and C2, A & C1, B and D grade). Starting positions will be allocated around the track as in a track 'wheelrace' and all riders start on the gun (ok well...megaphone squark)
Riders must cross the line together with their teammate. Riders without a teammate may rent a junior for a small donation.

8.20 am. SANTA ARRIVES and conducts "Tykes on Bikes" Race for all little kids. Little kids do one lap of inner circuit. Bikes, training wheels, scooters, babies in prams, etc. Parents can run with kids. All kids get a ribbon and present from Santa. Start/finish in front of clubhouse.

8.30 am. Andrea's Lolly Hunt. A traditional lolly hunt around the clubhouse for all present.

8.35 am. Awards for best decorated bike – kids and adults.
Awards for best Xmas costume – kids and adults.

8.40 - 9.10 am – B Grade Drop & Run Race. – 30 mins.
8.41 – 9.15 am – A Grade Drop & Run Race – 35 mins

Barbecue finishes approx. 15 mins after A Grade race.

NOTE : A "Drop & Run Race" involves dropping bike on far side of track, running to Comms and getting a rubber band and remounting on each lap. Any rider who, in the opinion of Comms, takes the race too seriously could be asked to do 10 push ups!







Details

Hits: 519
Volunteer Policy Change
Volunteer Roster – after a survey of members regarding creating a better outcome for officials at our weekly races the following policy was the popular choice of members and has been adopted:
A yearly calendar on display – at races, on the website, members can nominate anytime.
Members nominate to do duty 1 day in the year, from October 31 - November 1 each year.
Computer registration system is set to accept 1 race entry only BEFORE it flags that rider has not nominated for duty. Once flagged the rider cannot race UNTIL they nominate a duty date. Failure to perform duty or provide replacement on nominated day, forfeits the rider to participating until duty is performed.
Wednesday arvo Twilight Races and Open Events are handled seperately and are not part of the members Roster.
The calendar can be viewed here on the website via the Calendar link in the menu and you can click HERE to send an email to secretary Wayne Wilson to nominate your session. A calendar will also be on display at each race so riders can nominate their 1 session for the year (more if you wish!!).