National Masters Road Championship 2018
Queenslanders have had some great results at the 2018 Cycling Australia Masters Road National Championships in East Gibbsland Victoria.

Andy Patten won GOLD in the Masters 5 ITT and Colin Howkins BRONZE in the Masters 9 ITT. Both riders have been in fine form recently.

Phil Kesby also made it back to back championships in the Masters 6 Road Race. 
We don't see much of Phil as he spents a lot of his time training and racing in Europe. One of his fellow competitors passed on this message: 
"Would just like to pass on a kind word of the representative from your club who won the masters men 6 Australian championships in the road race - Phil Kesby. First of all, congratulations on a fine ride, you deserved it , and thanks for the kind words of encouragement during the race. I was very happy with my own performance but your words to me have given me good reason to continue at this level after many yrs away from it. Thankyou very much great sportsman ship on Phil's behalf. Hope to race against Phil again next year. 
Your club can hold your head high."
From Cycling Australia:
Phil Kesby National Champion MM6 for the second year in a row
Back to back National Titles for Phil Kesby of Hamilton Wheelers defending his MM6 title won on the Gold Coast 2017 with convincing performance at Swan Reach Victoria.
Phil Kesby (Hamilton Wheelers CC) was first to cross the line in the MM6 road race having made a gutsy break from the peloton 3kms from home. His lead was nearly chased down; however, Kesby remained strong to take the line. Metres before the checkered flag Kesby sat up and punched the air, soaking up his title after a winning in dry, warm conditions.
His second National Title follows a successful 2018 season of racing;
1st Marcello Bergamo, Borgomanero (IT) - Road race M6
5th Don Guanella, Lecco (IT) - Road race M6
4th Ale La Merckx, Verona (IT) - Road race M6
2nd Alpi Ligure, Carcare (IT) - Road race M6
1st San Maurizio, San Stefano Belbo (IT) - Road race M6 (9th on GC)
1st Torino Internationale (IT) - Road race M6 (33rd on GC)
1st Australian Masters National Championships - Road race M6
Not bad when you consider Phil only started racing in March 2015! Encouragement for all those who are thinking about getting into racing.
Result: Masters Men 6
1. 632 Phil KESBY (Hamilton Wheelers Cycling Club) 1h45:51 
2. 608 Michael DAVIES (Norwood Cycling Club) +5 
3. 630 Martyn HUGHES (Southern Masters Cycling Club) +5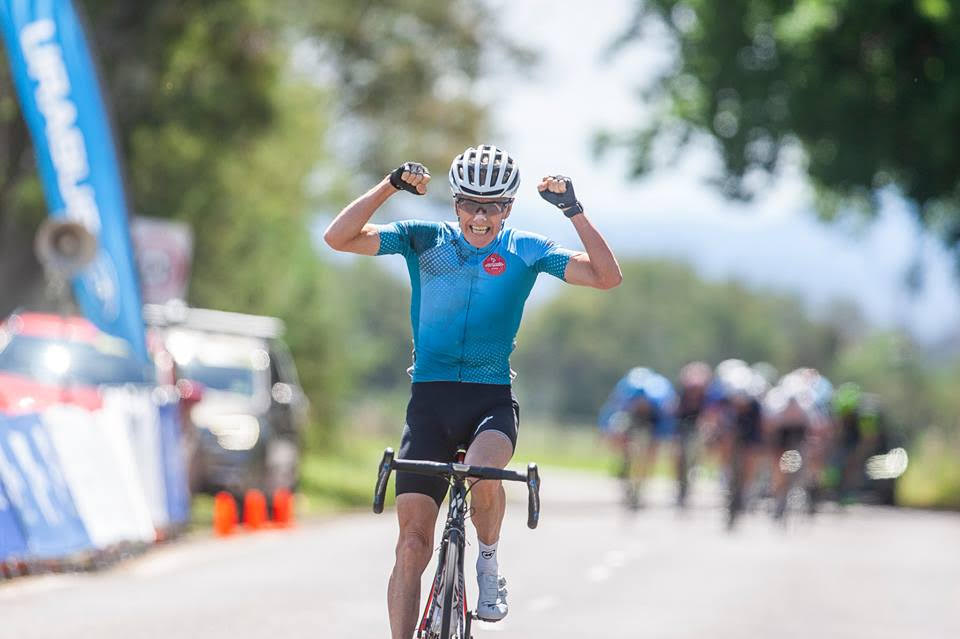 Phil Kesby



Col Howkins