2014 Nicol Jackson Womens Series
The 2014 Nicol Jackson Women's Series has been run and won! Click

HERE

 For full results

 


Motor Neuron Disease Fundraising
The series is named to honour the memory of Nicol Jackson, a long time member of the club who passed away after battling Motor Neurone Disease. Nicol was a lovely lady and a passionate racer and is sorely missed. We are collecting donations to support research into Motor Neurone Disease. Neil Jackson is donating $1 for every entrant, and several other HPRW members are matching this donation.

If you would like to make a donation please click the image or link below. When making your donation please add the letters  'NJL' to the end of your name so a total can be tracked and then in the grey section at the bottom please select Motor Neuron Disease.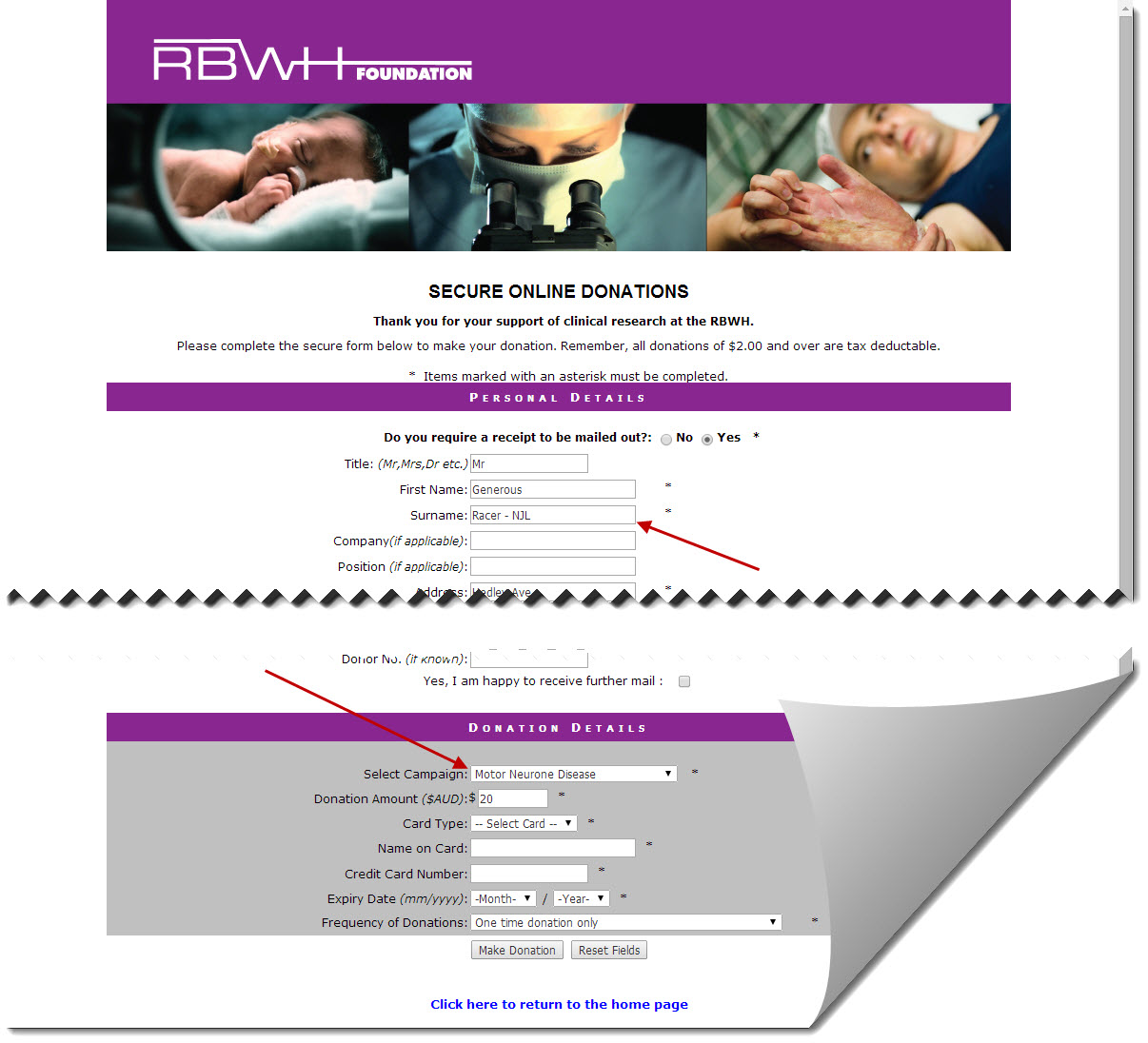 https://secure.donman.net.au/client/rbwhf/rbwhf.asp 
As always we encourage new riders to enter. Three day racing licences are available for non Cycling Queensland club members, which will cover the three races.  A racing skills session will be held prior to race one. New riders are strongly encouraged to attend the session.
If you know any women who might be interested in racing, let them know about the 2014 Nicol Jackson HPRW Women's Racing Series!
We hope to see you racing at a HPRW event soon!
Women's Series FAQ (Frequently Asked Questions)
I've never raced before, is this for me? -
 The Women's Series is designed to support women who have not yet raced as well as those who are regular riders & racers - so it's not an issue if you have not competed before. The format allows for two events (road race & time trial) prior to the the last event a criterium - which allows riders to add to their competency & gain a level of comfort about racing & riding with others. There will also be an introduction to racing session on Sat Jun 21 click 
HERE
 for full details. 
Is it Women Only?  YES, the Series is for women only - so there is definitely less testosterone and generally speaking based on past years numbers about 16-20 in each grade- which is also not as overwhelming if you are new to competition. Women can only enter the designated women's events during the Women's Series.  NB - At all other regular HPRW events women and men are combined in grades A through to E based on ability. We do however have a club members championship series divided into men, women and juniors by age and sex, as well as regular women only races.

How do I enter?  You don't need to enter in advance - just turn up on the day and pay your $10 entry fee. Arrive early especially if you need to purchase a 3 day licence.

Can I enter a single event? YES - you can enter only one or all events as you simply pay your entry on the day of the race 15-30 mins before the start time.  If you do not have a race licence then we suggest you allow a little extra time before your first event to complete your 3 ride licence paperwork or you can join our HPRW club.  Allow yourself at least 40 mins before the start time to fill in the forms & register and pay your race entry, that way you should still have enough time to warm up etc. Registrations for each event close 15 mins before start time - so make sure you leave enough time to get to the respective locations.
Please Note - To be eligible for an overall series winner in the Nicol Jackson Women's Series - one for each grade is awarded  - you will need to compete in all three events and your points will carry forward from event to event. Points allocation 1st =15, 2nd = 12, 3rd = 9, 4th = 7  finish=1
Can I get a temporary Licence? YES for $44 you can get a 3 ride licence (which is valid at any HPRW event within a 3 month time frame) - so even if you don't do all the events in the women's series - you could still turn up to almost any other HPRW event within the 3 month period and use up your rides. N.B. check the HPRW Calendar - if it says Visitors welcome - you are able to come and race at that event. 3 day licences will also be available for purchase at the Introduction to Racing session.
What is Handicapping? - If you are new to racing our handicappers will ask you a number of questions such as your age, how often you ride, how far & how long it takes you to do that ride etc.  Based on this information they will endeavour to place you with riders of a similar standard to ensure a level playing field. It is difficult for the handicappers if you have not raced with HPRW before - or if you are not known to other women competing - as the handicappers will not have any riding form to go on - and that's where YOUR honesty & integrity as a competitor comes into play by providing the handicappers with accurate information about your ability.  We want to ensure that every rider competing has the best possible racing experience so that they will come back again & tell their friends about it. 
Can I get more info about the courses?  Here is a link to all of our course locations. The Women's Series uses three three courses:
Rules and details
A Series Winner will be recognized in A, B, C & D.  Each Series winner will be awarded a cash bonus –presented at the completion of Round 3. N.B. Series winner must have completed all 3 events
In the event of a tie the rider who scores points first in the series shall be the winner.
Points Allocation 1st – 15, 2nd – 12, 3rd – 9, 4th – 7, Finisher – 1 point
Women will only be eligible to race in Women's events on the dates above (the other races will be men only)
Line entries accepted on the day at each race location (no need to pre-register)
These events are women's restricted open events.  Women riders from other clubs are encouraged to participate.  If you haven't been race graded by HPRW, please speak to our club handicapper before registering to determine your grade. Please allow extra time prior to registering if ungraded
 Registrations close 15 minutes before start time
New riders welcome to purchase a 3 day racing licence in order to participate e.g. $44 cost + $10 race entry per event. Cost of a 3 day licence is deducted from the membership fee if you become a member
For further details – email
This email address is being protected from spambots. You need JavaScript enabled to view it.
Previous Years
Results and photos from the 2013 Women's Series:
Results for Round 1 Circuit Race
HERE
Results and photos from the 2012 Women's Series:
Round 1 Road Race Results and Photos are 
HERE